Classical Mystery Tour: A Tribute to The Beatles with your Orlando Philharmonic Orchestra
Presented by Certified Financial Group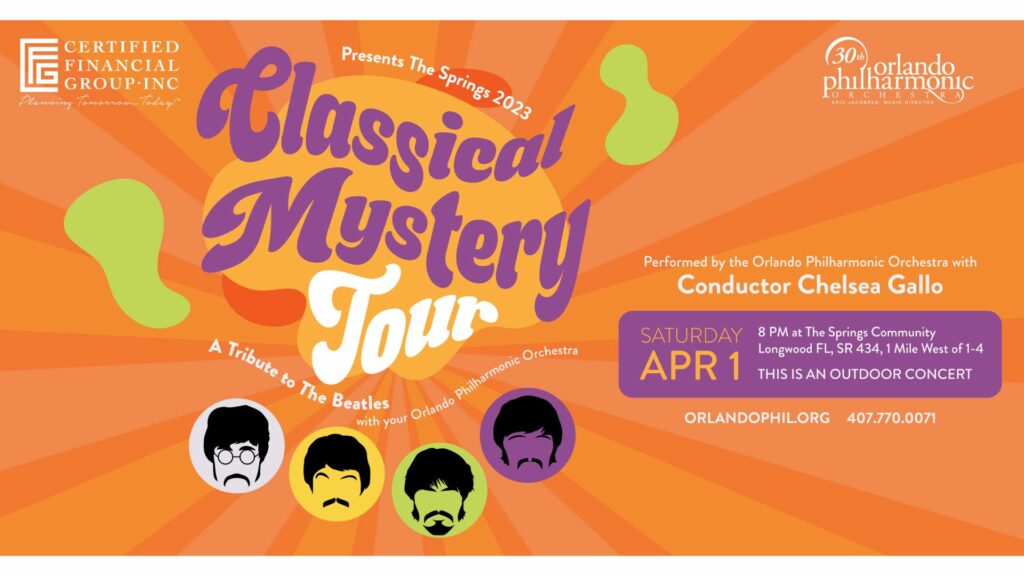 From early Beatles music on through the solo years, Classical Mystery Tour is the best of The Beatles like you've never heard them before. You might say it's the best show the Beatles never did!
The four musicians in Classical Mystery Tour look and sound just like The Beatles, but ClassicalMystery Tour is more than just a rock concert. The show presents more than two dozen Beatles tunes performed exactly as they were originally recorded. Hear "Penny Lane" with a live trumpet section, experience the beauty of "Yesterday" with an acoustic guitar and string quartet, and enjoy the classical/rock blend on "I Am the Walrus."
Event Information
This is an outdoor concert held at The Springs Community in Longwood, FL, SR 434, 1 mile west of I-4. Gates will open at 5 p.m. and the concert is at 8 p.m.
Tickets will be checked and ripped at the door. You must have your ticket on your person at all times for entrance and reentrance to the community. The concert will be approximately two hours in length with an intermission.
Rain date for this concert is Sunday, April 2, 2023 at the same time and location. If weather is inclement on concert day, call 407.770.0071 or email boxoffice@orlandophil.org after 3:00 p.m. for updates. If there is a postponement due to weather, that call will be made on the day of the concert, April 1st. All ticket holders will be notified via email and phone directly from the Orlando Philharmonic Orchestra Administrative Office.
Ticketing
General Admission Tickets
General admission tickets are $50 and can be purchased online.
4-Pack tickets of four adult tickets are $45 per ticket. Add 4 tickets to your cart and the discount will automatically apply, no promo code needed. Please keep in mind this offer only works in increments of 4 tickets. Ex. If you have 6 tickets added to your cart, 4 of them will be $45 each and the other 2 will be $50 each.
After your ticket purchase, your physical tickets will be mailed to you or you may elect to pick them up at will call, as we do not offer a print at home option on these tickets. This is specific to this event for the OPO, as we have a special ticket made for this concert and they are mailed with information about this event and the community.
All sales are final, no refunds or exchanges.
Please note, tickets purchased after 3/22/23 will not be mailed and will be available for pickup at Will Call at the event site on the day of the concert beginning at 3 p.m. 
VIP Tickets
VIP Single Tickets include one VIP admittance to the VIP section of The Springs which includes a catered dinner and drinks under the stars starting at 5pm. Post-dinner, VIP seats are reserved on a floating dock over the water for you to enjoy Classical Mystery Tour with the best view in the house. You will also receive a parking pass for dedicated VIP parking. Please contact philanthropy@orlandophil.org to purchase VIP single tickets.
Parking & Seating
For information on parking, seating, a venue map, and prohibited items, please visit the Know Before You Go page.
Sponsorship Opportunities
All sponsorship levels include dining under the oak trees; catered buffet, beer, wine, and soft drinks; VIP parking; and program recognition.
Your benefits include the following:
3 VIP Tables (30 tickets)
Deck seating on the water
Orchestra sponsored by your name/your company name
Full page ad in the digital Springs program
Name and logo on a banner at the VIP clubhouse
Logo included in event materials and website
Sponsorship included in 2022-2023 Season Concert Program
Your benefits include the following:
2 VIP Tables (20 tickets)
Deck seating on the water
Guest Artist sponsored by your name/your company name
Full page ad in the digital Springs program
Name and logo on a banner at the VIP clubhouse
Logo included in event materials and website
Sponsorship included in 2022-2023 Season Concert Program
Your benefits include the following:
1 VIP Table (10 tickets)
Deck seating on the water
VIP Clubhouse sponsored by your name/your company name
Half-page ad in the digital Springs program
Name and logo on a banner at the VIP clubhouse
Logo included in event materials and website
Sponsorship included in 2022-2023 Season Concert Program
Your benefits include the following:
Private gazebo seating
Dining picnic seating next to gazebo
Beverage cooler
Boxed dinner for 10 or pre-concert picnic at the VIP Clubhouse
Half-page ad in the digital Springs program
VIP banner at the clubhouse
Your benefits include the following:
1 VIP Table (10 tickets)
Dock seating on the water
Event sponsored by your name/your company name
Half-page ad in the digital Springs program
Sponsorship included in 2022-2023 Season Concert Program
Your benefits include the following:
1 VIP Table (10 tickets)
Raised platform seating on the deck
Listing in the digital Springs program
Your benefits include the following:
1 VIP Table (4 tickets) – Porch Seating
Listing in the digital Springs program
To become a Sponsor, please complete and submit the form below. For VIP tables and Sponsorship questions please contact philanthropy@orlandophil.org
"*" indicates required fields
8:00PM, Saturday, April 1, 2023