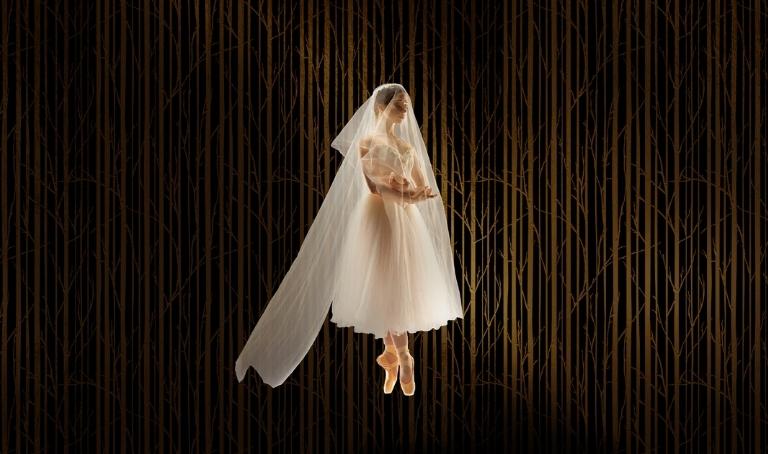 Local philanthropists' financial gift makes premiere performance possible
TICKETS ON SALE TUESDAY, NOV. 2 AT 10 A.M.
Orlando Ballet will perform Giselle in the eagerly awaited Steinmetz Hall at Dr. Phillips Center for the Performing Arts, and to live music by the Orlando Philharmonic Orchestra over Valentine's Day weekend.
Renowned Kansas City Ballet Music Director Ramona Pansegrau will serve as guest conductor for this highly anticipated event. Tickets will go on sale at 10 a.m., Tuesday, Nov 2, 2021.  This spectacular event will run from Thursday, February 10 through Sunday, February 13, 2022.
The special pairing of Orlando Ballet with Orlando Philharmonic Orchestra is made possible by Central Florida philanthropists Laurence and Susan Costin, longtime supporters of the performing arts. The couple provided the funds necessary to support the Philharmonic's performance, ensuring live music to accompany the dancers.
"As admirers and supporters of Orlando Ballet and the Orlando Philharmonic Orchestra, when we learned of the opportunity to assist the Ballet with the presentation of Giselle in Steinmetz Hall, including live music, we were delighted to step forward," the Costins said. "Ballet is a beautiful art form in every respect, made even more sublime when performed to the music of a professional live orchestra. As the home of these two highly acclaimed performing art companies, their Giselle performance together will be a highlight of the 2022 Orlando arts year."
"We couldn't be more excited that Orlando Ballet and the Orlando Philharmonic Orchestra will be opening Steinmetz Hall; it's what the community has anticipated for quite some time," said Orlando Ballet Board President Jonathan Ledden. "We are especially grateful to Larry and Sue Costin who are not only generous supporters, but they truly understand the philanthropy required to build world class cultural arts organizations."
Cheryl Collins, Executive Director of Orlando Ballet noted, "We are more than grateful to the Costins for making this elevated presentation possible. The community has been looking forward to seeing our dancers perform in what promises to be a spectacular venue. Our supporters have proven they are eager for more live performance, and this will surely be a world-class event."
Designed to create a virtually perfect performance venue and experience in terms of acoustics and setting, the Steinmetz Hall setting is sure to showcase the relationship between ballet performed to live music, which is exceptionally powerful with a particularly dramatic ballet like Giselle.
"Giselle is beloved globally for its basic love story but also because of the unexpected twists and turns involving heartbreak and efforts for redemption," said Orlando Ballet's Guest Artistic Director Jorden Morris. "This production is lush in choreography and acting; that lushness is amplified by live music. It's Valentine's weekend so we will certainly be showing love of dance, music and our community."
"The Orlando Philharmonic Orchestra is thrilled that we will once again be performing live music for Orlando's professional ballet company. Working with Orlando Ballet, a world class ballet company right here in our community, is an honor and a privilege, and we look forward to building on this partnership for years to come," said Paul Helfrich, executive director, Orlando Philharmonic Orchestra. "The combination of a professional orchestra with professional dance, in a state-of-the-art performance venue, will mark a tremendous milestone in the artistic offerings shared with our Central Florida Community.  We hope that everyone will come out to celebrate with us in February."
Giselle, one of the world's most dramatic and popular ballets, is known for its blend of romance, betrayal, and tragedy.  The story is told through dynamic choreography that reveals peasant girl Giselle's heartbreak, sorrow, and never-ending devotion to her beloved betrayer. Shock waves ripple after her untimely death, including her ghostly reappearance to protect her beloved, all of which is sure to inspire renewed faith in undying love – ideal for the most romantic weekend of the year. Adding to the passion of the production will be the live music performed by the Orlando Philharmonic Orchestra and led by Ms. Pansegrau. Known as one of the world's finest piano soloists for ballet, Ms. Pansegrau has conducted for Orlando Ballet in the past, served as music director and conductor of the Tulsa Symphony Orchestra and, since 1990, has served as Conductor for the USA International Ballet Competition.
WHEN:
Thursday, Feb. 10, 2021 – 7:30 p.m.
Friday, Feb. 11, 2021 – 7:30 p.m.
Saturday, Feb. 12, 2021 – 2:00 p.m.
Saturday, Feb. 12, 2021 – 7:30 p.m.
Sunday, Feb. 13, 2021 – 2:00 p.m.
Tickets start at $24
Purchase tickets:
Online: drphillipscenter.org 
By phone: 358.6603. Ticket fees included in online and phone transactions.
In person: Bill & Mary Darden Box Office at 445 South Magnolia Ave., Orlando, FL 32801.

No additional fees if purchased in person. Box office hours are Monday-Friday 10 a.m.-4 p.m.

Groups of 10 or more receive up to 25% off: Call (407) 203-3735.
*Prices, titles, dates, times, locations and cast are subject to change at any time without notice.
About Orlando Ballet:
Founded in 1974, Orlando Ballet is Central Florida's only fully residential professional ballet company. Orlando Ballet produces year-round main stage productions at the Dr. Phillips Center for the Performing Arts and Harriett's Orlando Ballet Centre, featuring timeless masterpieces and innovative contemporary world premieres, achieving the highest level of professionalism and artistic excellence. Orlando Ballet promotes dance education through community enrichment programs, performance lecture demonstrations, the renowned Orlando Ballet School, and Orlando Ballet II, a second pre-professional company to train and support dancers as they approach the start of their dance careers. For information about Orlando Ballet, please visit our website at OrlandoBallet.org.