Everything you need to know before concert day with your Orlando Philharmonic Orchestra.
We're excited to have you join the Orlando Philharmonic this Season! Whether this is your first time with the Philharmonic, or you're a long-time patron, the information found below will ensure that your visit is as enjoyable as possible.
Some relevant information such as day-of ticket sales, special parking options, instructions for venue entry, food and beverage options, and intermission information will come in the week before the performance in the form of a Know Before You Go email to all performance ticket holders.
If you have any questions or concerns before a performance, you can always reach out to The Frank Santos/Dan Dantin Box Office at boxoffice@orlandophil.org or 407.770.0071. You can also request a call by clicking here.
Navigation
Your Tickets
Subscriptions for all concert series' can be purchased through the Orlando Philharmonic Orchestra website or by contacting the Frank Santos/Dantin Box Office. Single tickets for concerts that take place at the Dr. Phillips Center for the Performing Arts are sold directly through the Dr. Phillips Center website. After clicking on the "Buy Tickets" button on applicable concerts, you will be directed to their website to complete your purchase. Single ticket purchasers will receive their tickets as Digital/True Tickets. We strongly advise against purchasing on other websites in order to avoid potential scams and fraud.
Classics Series and Pops Series ticketing
This Season, digital tickets will be utilized for Classics and Pops Concerts. Single tickets are purchased directly though the Dr. Phillips Center website will be sent to the email address associated with your account/purchase. Classics, Pops, Super Series, and CYO subscriptions can be purchased on our website or by contacting the Frank Sanots/Dan Dantin Box Office. Subscribers will have the option to have their tickets mailed to them.
Focus Series, Symphony Storytime, and Resonate Festival ticketing
For Focus Series, Symphony Storytime, and Resonate Festival performances: Due to these performances being General Admission, patrons will not be receiving physical or print-at-home tickets. Instead, ticket holders will be checked in upon arrival based on a master list of all performance ticket holders. You will still receive a confirmation in your email after purchasing your tickets.
Focus Series subscribers will have reserved seating in the front rows.
Individuals holding an All Access Pass to the 2024 Resonate Festival will receive a badge and lanyard at check-in on the day of the first concert they attend.
Venue Information
Please see below for information on each of the venues your Orlando Philharmonic will visit this Season– including seating maps, transportation and parking, and more.
Lynx or Lymmo transportation may also be available on days of performances.
Lobby doors will open an hour before performance time, and venue doors will open 30 minutes before. Please plan accordingly, as we are unable to provide refunds or exchanges for latecomers. Latecomers or guests who leave during a performance will only be allowed into the seating area in between pieces or at intermission. Re-entry policies will also vary for each event, so check beforehand—and keep your ticket with you at all times.
FIRST UNITED METHODIST CHURCH ORLANDO
142 E Jackson St Orlando, FL 32801
Located just 7 minutes (2.4 miles) away from The Plaza Live and 3 minutes (0.5 miles) away from the Dr. Phillips Center for the Performing Arts.
PARKING
A limited amount of free parking will be available under the church.
On the other side of the church is the Administration Garage located at 300 Liberty Ave, Orlando, FL 32801
Get 2 hours of free parking at any on-street metered and non-metered spaces by using the ParkMobile app with the code ParkDTO. This offer is provided by the Downtown Orlando Development board. The promotion code can be used up to four times per ParkMobile account.
ABOUT FIRST CHURCH 
First United Methodist Church Orlando (First Church) specifically believes God has called First Church to SEEK, LOVE, & SERVE at the urban core of Downtown Orlando. First Church is uniquely, centrally placed at the intersections of government, the arts, commerce, education, and culture. The cross in their logo also resembles the points of a compass, with arrow points directing outward toward neighbors. They believe their calling is to SEEK, LOVE & SERVE, as they intersect and engage each unique element of the Downtown community.
They welcome and affirm the diversity of people of every sexual orientation, gender identity, race, ethnicity, national origin, immigration status, age, faith history, marital status, physical ability, cognitive ability, socioeconomic status and all who have been marginalized.
STEINMETZ HALL
445 S Magnolia Avenue, Orlando, FL 32801
For information on parking, ticketing, health and safety procedures, and more please visit our Steinmetz Hall Know Before you Go page.
THE PLAZA LIVE
425 North Bumby Avenue, Orlando, FL 32803
These health and safety updates are in agreement with the Center for Disease Control and Prevention's newly released rate of transmission data and recommendation for Orange County. For the latest information, click here.
PARKING
As always, the Orlando Philharmonic Orchestra offers FREE parking at the Plaza Live located at 425 N Bumby Avenue. The option to park free is available to all patrons attending concerts in our Focus Series, Resonate Festival, and Symphony Storytime Series. Free parking will also be available for patrons taking the Shuttle Service to Steinmetz Hall.
The Plaza Live offers 400 free parking spaces, and overflow parking is available in front of Old Navy in the Colonial Plaza Mall. There is a guest drop-off and pick-up area located in the northeast corner of the building. Valet parking is unavailable for concerts at The Plaza Live. Accessible parking spots are available on a first-come, first-served basis by entering off of Bumby Avenue and parking on the south side of the lot. A hanging placard or accessible license plate is required to gain access to accessible parking.
BAG POLICY 
Effective July 1, 2022, The Plaza Live will be enforcing a new bag policy. The following bag sizes will be the only sizes allowed inside the venue:
Clear Bags – 12″ x 6″ x 12″ or smaller
Small Clutches – 4.5″ x 6.5″ or smaller
(Clutches do not have to be clear)
If bags larger than the above permitted sizes are brought to the venue, security will ask that you return the bag to your vehicle prior to entry.
Medical and parent bags are exceptions and will be subject to a thorough search at a designated security station (maximum size 14″x14″x6″).
THE SPRINGS
400 Woodbridge Road, Longwood, FL 32779
PARKING AND GUEST DROP-OFF
Event parking is free and located in the Sanlando Office Park at 2180 W. SR 434.

The main Event Entrance is across the street from Sanlando Office Park. Police officers will be on hand to assist guests in crossing W.SR 434 safely.

Guest Drop-Off is available to all guests to drop picnic set-ups and guests before parking at Sanlando Office Park. To use the drop-off route, turn into the entrance near Petty's and bear left, then follow the signs for the drop-off location. Do not park in the drop-off, VIP Parking Area, or Sponsor Area- this parking area is for sponsors only. Anyone parking here without a parking pass may be towed. Drop-off time is required to be as quick and as efficient as possible – not to exceed 5 minutes. You will be required to move your vehicle at the discretion of the Orlando Philharmonic Staff if using the drop-off area for an excess amount of time.
Parking in the Petty's lot is not permitted.
GENERAL SEATING INFORMATION
Seating for the concert will be on the lawn area in front of and beside the Spring itself. The stage for the orchestra will be built over the Spring on the opposite side.

Patrons needing accessible seating will need to sit at their own discretion as all General Admission seating is located on a grassy sloped hill. 

Lawn seating is on a first-come, first-served basis, beginning at 5:00 p.m. Blankets and/or chairs place on the lawn area prior to 5:00 p.m. will be collected by The Springs security and can be retrieved inside the Clubhouse after 5:00 p.m.

Blankets, chairs, candles, lanterns and picnic set-ups are welcome, as are food, beverages and serving ware. Alcohol is permitted for guests 21 and up. Beer and wine will also be for purchase inside the lawn area.

No hibachis, grills, open flame, or fireworks are permitted.

Public Portable Restrooms will be available on site for use and are ADA accessible.
No smoking on the lawn or seating areas. Smoking is not permitted on site.
WINTER PARK EVENTS CENTER
1050 W Morse Blvd, Winter Park, Florida 32789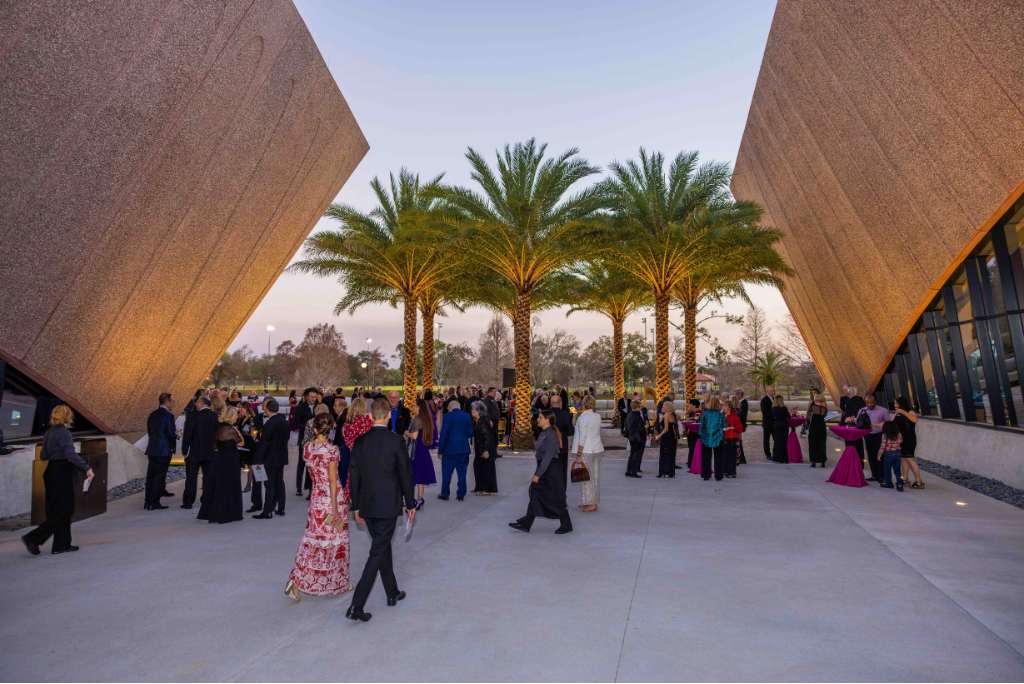 PARKING
Free self-parking is available on-site directly in front of the building. There is also overflow parking as well as in surrounding lots.
TICKETING
For Resonate Festival, our Box Office team will be on-site 2 hours prior to each concert. For All Access Pass holders, you may pick up your pass at the Box Office table prior to your first concert. Single ticket holders will not receive physical tickets, but will instead be checked off a list upon entering.
Food & Beverages
At many of our performances, food and beverages (both alcoholic and non-alcoholic) will be available for purchase. Please see below for venue and series-specific information on what will be available and permitted.
For performances at Steinmetz Hall, light snacks, non-alcoholic drinks and alcoholic drinks are available for purchase. You may bring your drink to your seat. Outside food and beverages are not permitted within the venue.
For performances at The Plaza Live (except for Symphony Storytime performances), beverages (alcoholic and non-alcoholic) will be available for purchase from the Friends Bar. Outside food and beverages are not permitted within the venue, except for bottled water at Symphony Storytime Series performances.
---
Pre-Concert Conversations
Presented one hour before each Classics Series performance, these informative and entertaining 30-minute talks are complementary for ticket holders.
House doors will open 1 hour before the concert performance time so that you may join us for the pre-concert conversation.
---
Dress Code
At all Orlando Philharmonic performances, there is no formal dress code unless otherwise stated. We want you to dress to your comfort level!
Please note that at outdoor venues, you will want to dress appropriately for the weather and the elements. Hats, sunglasses, and other protective sun gear are recommended, as well as bug spray and sunscreen. We also recommend comfortable walking shoes. Please note that umbrellas are not permitted at outdoor performances.
Some indoor performances may also warrant a light jacket or sweater, so please plan accordingly.
---
Audio and Video Recording
Audio and video recording of any kind is strictly prohibited at all Orlando Philharmonic Orchestra performances.
You've just gotten to your seat, the orchestra is warming up, and you want to snap a few photos – be our guest! We're more than happy for you to capture your memories with family and friends, and even check in on social media to let us know that you're at the concert with us. However, while the orchestra is performing, we kindly ask that you either turn your phones off or set them on silent, and refrain from audio/video recording or photographing.
---
Prohibited Items
Please see the list below for items prohibited at all Orlando Philharmonic Orchestra performances and events, unless otherwise stated. Patrons will not be allowed admittance into the venue by security if in possession of any of the following.
Weapons of any kind— including but not limited to firearms, knives, sharp-edged objects, mace and pepper spray
Illegal drugs
Cigarettes and electronic cigarettes, and the use of them
Flasks, coolers, and outside food and beverages (with the exception of water bottles at outdoor performances)
Outside seating, pop-up tents and umbrellas (chairs will be provided at all performances, both indoors and outdoors)
Skates, skateboards, bicycles and other recreational equipment
Items with indecent or derogatory messaging
Distracting items—including laser pointers, noisemakers, amplifiers, balloons, banners and signs
Face paint, costume masks and wrapped gifts
Unauthorized handbills, giveaways, samples and verbal solicitation
Audio and video recorders, tablets, cameras with detachable lenses larger than 6", tri-pods, mono-pods and selfie sticks
Pets, except service animals
Any other items deemed by the Orlando Philharmonic Orchestra as dangerous, illegal or detrimental to others enjoying the experience
---
Public Health & Safety
Our first priority is the safety of our patrons, staff, and performers. The Philharmonic will follow the guidance from federal, state, and local officials to make safety our top priority.
As of March 7, 2022 mask requirements have been lifted for indoor events and masks will no longer be required for patrons of OPO performances. For the most up-to-date information on our COVID-19 protocols, please see the Health and Safety Guidelines on our website.
All performances will still be sat at full capacity with no socially distanced seating.
Click here for additional health and safety updates to know before you visit your Orlando Philharmonic Orchestra.
For the latest COVID Safety Information from the Orange County Government, click here.
---
Other Important Information
Please see below for other information which may be relevant to your visit to the Orlando Philharmonic Orchestra.
Restrooms will be available on-site at all Orlando Philharmonic performances and events.
Inclement weather will not affect indoor performances. For outdoor performances, a rain date may be applicable and will be communicated prior to the performances.
Road closures may occur on the day of select performances. Please check the Know Before You Go email communications sent to you before performances for this information, and plan accordingly to reach the venue in a timely manner.