Answers to all of your big questions like where to park, what to wear, and when to clap.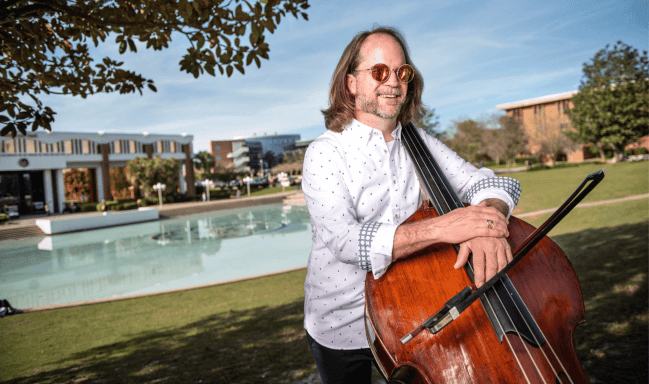 Steinmetz Hall Information
Click the button below for the latest information on Steinmetz Hall.
To make the most of your experience, we recommend that you arrive at least 30 minutes prior to the performance (45 minutes if your tickets are at Will Call.) This will offer you plenty of time to find parking, enter the venue, and make it to your seat.
Late Seating/Re-Entry: Please note that any patrons arriving late or re-entering the theater will be seated during the first appropriate pause in the music, at the discretion of the usher.
While our musicians wear tuxedos and traditional black orchestra dress, formal attire is not a requirement at Orlando Philharmonic performances. We encourage you to wear what makes you comfortable, and enjoy the concert*.
Most Orlando Philharmonic patrons dress as if they were going to dinner at a nice restaurant. Please refrain from wearing strong perfumes or colognes, as they may disrupt other patrons and performers.
*Note that the temperature inside the theaters or at outside venues can fluctuate, so a light sweater is recommended.
There has been much debate about when to clap during orchestra performances, but it is still common for audiences to clap only after a piece is finished. For pieces with several movements, there will be a short pause between each section (your program book will list how many movements a piece has for reference). If you are ever unsure of when to clap, simply wait until the conductor has turned to face the audience, or follow the lead of your fellow concert-goers.
You've just gotten to your seat, the orchestra is warming up, and you want to snap a few photos – be our guest! We're more than happy for you to capture your memories with family and friends, and even check in on social media to let us know that you're at the concert with us. While the orchestra is performing, we kindly ask that you either turn your phones off or set them on silent, and refrain from audio/video recording or photographing.
There are several parking options for Classics Series and Pops Series concerts located around Dr. Phillips Center for the Performing Arts.
Classics & Pops Series Venue Parking Info
Parking for the Focus Series and Symphony Storytime Series is located at The Plaza Live. Parking is free in the lot surrounding the venue, with overflow parking available in front of Old Navy in the Colonial Plaza. Parking often fills quickly, so we recommend that you arrive early for your best experience.
The Orlando Philharmonic loves to see families enjoying music together. We recommend that our Classics Series and Focus Series performances are best enjoyed by children ages 10 and up. Some of our Pops Series matinee concerts, such as Home for the Holidays are perfect to enjoy with family.
If you're looking for a music experience made especially for your little ones, then we invite you to learn more about our Symphony Storytime Series, Young People's Concerts, and other special events throughout the Season. Browse family-friendly events now.