When should I arrive?
We recommend you arrive at least 30 minutes prior to your event, 45 minutes if your tickets are being held at Will Call. This will offer plenty of time to secure parking, and locate your seat inside the concert hall.
The Orlando Philharmonic Orchestra is happy to present a pre-concert conversation one hour before every FAIRWINDS Classics Series concert at Bob Carr Theater. The pre-concert conversation is free to all ticket holders, and offers a unique opportunity to learn more about the guest artists, conductors, and the music that will presented during the concert.
Late Seating/Re-Entry: To provide the best possible experience for our patrons, those arriving late or re-entering will be seated during the first appropriate pause in music.
What should I wear?
While our musicians wear tuxedos and traditional black orchestra dress, formal attire is not a requirement at Orlando Philharmonic events.
We encourage you to wear what makes you comfortable, and enjoy the concert*.
Most Orlando Philharmonic patrons dress as if they were going to dinner at a nice restaurant. Please refrain from wearing strong perfumes or colognes, as they may disrupt other patrons and performers.
*Note that the temperature inside the theaters can fluctuate, so a light sweater is recommended.
The Big Two: What To Wear and When To Clap.
Violinist Holly Mulcahy provides another look on two of the most commonly asked questions before concerts.
Nobody wants to feel out of place when they go to a symphony concert, yet so many patrons wonder if what they are wearing will be acceptable. As helpful and welcoming the orchestras try to be, many people still want to feel like they are fitting in…continue reading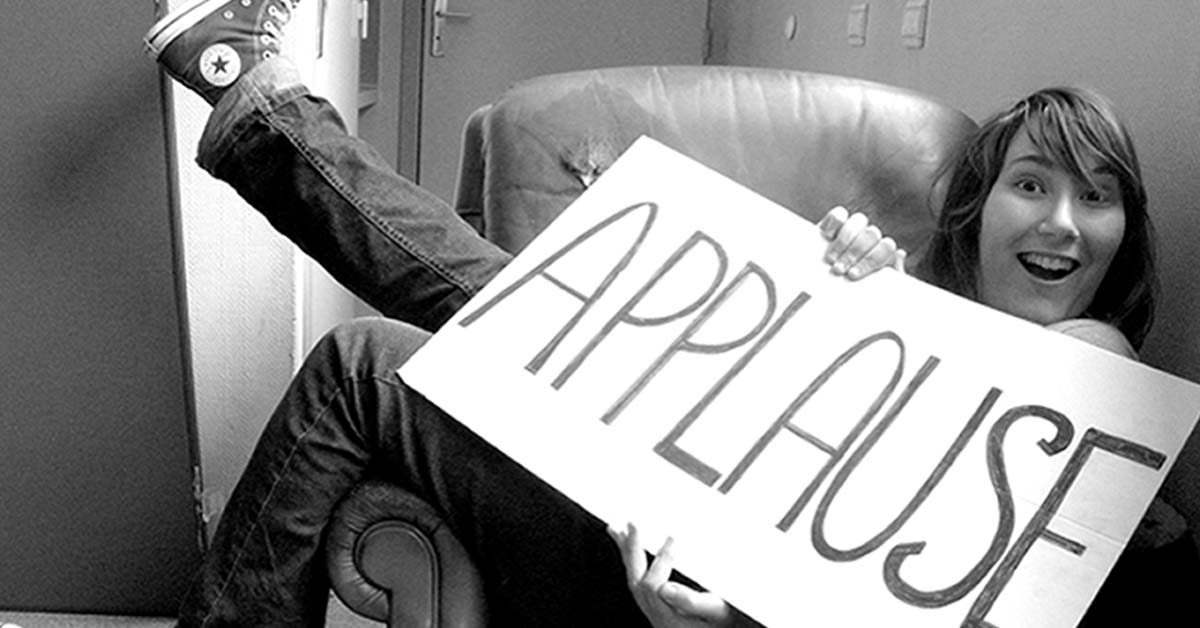 One of the most popular debates about orchestra concerts is when to clap. There are two types of clapping experts; one that assures you that clapping between movements is ok and that there are really no rules and the expert that says only to clap when the piece is completely finished…continue reading
What should I know about concert etiquette?
Noises/Distractions:
"A painter paints his pictures on canvas. But musicians paint their pictures on silence." – Leopold Stokowski
While we realize that eliminating all noise from a concert hall would be impossible, we ask that our patrons help our orchestra paint a beautiful picture by enjoying the concert as quietly as possible. Even slight noises like whispering, candy wrappers, and shuffling program pages can easily distract patrons and performers alike. Cell phones and other electronic devices should be silenced before the performance begins.
When is the best time to applaud?
There has been much debate about the timing of applause for a symphonic performance, but it is still common for audiences to clap only after a piece is finished.
For pieces with several movements, there will be a pause between each movement, and the program book will list how many movements a piece has for reference.
If you are concerned about when to clap, simply wait until the conductor has turned to face the audience, or follow the lead of your fellow audience members.
May I take photos or videos of the concert?
Recording or photographing the Orlando Philharmonic Orchestra is not permitted.
Where should I park?
Parking at the Bob Carr Theater (FAIRWINDS Classics and Pops) is $10 per car.
Parking at The Plaza Live (Focus and Symphony Storytime) is free, with overflow parking in front of Old Navy in the Colonial Plaza. Parking often fills quickly, so we recommend you arrive early.
Can I bring my children?
We recommend that our Classics, Focus, and Opera performances are best suited to children ages 10 and up.  Some of our Matinee Series concerts, such as Home for the Holidays, are more family-friendly.  For the enjoyment of everyone, we ask that you give serious consideration to the type of music being performed and your child's age and attention span before purchasing a ticket for your child.
The Philharmonic encourages family attendance at all of our outdoor programs and our indoor family-friendly concerts such as Home for the Holidays.  Parents whose children become fussy or disruptive may be asked to leave the theater until the child calms down.  Every child age 2 and up requires a ticket and families with young children will be seated as close to an aisle as possible.
We  offer several Young People's Concerts and special events throughout the year, and many are designed just for kids! Browse family-friendly events now.