The Orlando Philharmonic Orchestra has programs to serve all listeners – even the little ones. Click below to learn how everyone in your family can enjoy music.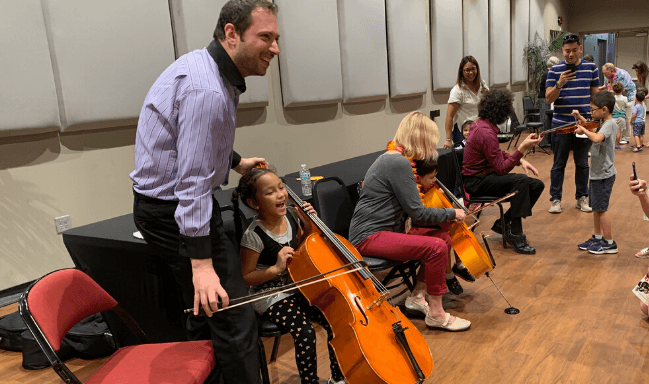 The Orlando Philharmonic Orchestra's education and community programs have something for everyone!
We are always adding new programs and initiatives.  "Like" our Facebook page to stay in the loop!
Yes!  To request a quote for an education event, contact our Director of Education and Community at education@orlandophil.org or 407.896.6700 x232.
To request information about coordinating a school visit, fill out our simple online request form and an Orlando Philharmonic representative will contact you as soon as possible.
We have several events that are perfect for families.  Here is a brief list of the scheduled events we offer and the recommended age for your child.  Be sure to join our Facebook page as we offer additional events through the year.
Symphony Storytime (The Plaza Live): Great for ages 3–7, the concert is 30 minutes long and includes introductory music showcasing the instrument family plus the story of the day. For more information, visit our Symphony Storytime page.
Young People's Concerts: Great for grades 3–5.  This 45–minute program is returning to in-person concerts for the 2022–2023 Season!  The educational materials are created for grades 3–5, but older and younger students enjoy the concert as well because of the high-quality music.  This concert is perfect for students who have little experience with orchestral music and who benefit from hearing short excerpts of several types of music. For more information, visit our Young People's Concert page
We offer educational programs in a variety of settings.  Our most common venues are:
The Plaza Live (425 North Bumby Avenue | Orlando, FL 32803)
Symphony Storytime Series
Dr. Phillips Center for the Performing Arts (445 South Magnolia Avenue | Orlando, FL 32801)
Special events are offered at various venues throughout the city. We've offered programs at the Dr. Phillips Center for the Performing Arts, Loch Haven Park, Central Park (Winter Park), and many more.
Education events are available year-round.  Generally, the Young People's Concerts take place in the fall from September-November. Information on how to view the program can be found here. Symphony Storytime occurs from October-May, and many of our special events occur in the Spring. 'Like' us on Facebook or join our mailing list to stay in the loop.
We're so happy you're interested in being involved or learning more! The Friends of the Orlando Philharmonic Orchestra is the volunteer organization for the Orlando Philharmonic, and offers several educational presentations each season, each focused on upcoming Orlando Philharmonic concerts. Please visit The Friends website for more information on what they offer, and how to join.
For the 2022–2023 Season, the Symphony Storytime Series at The Plaza Live are non-ticketed events, and you will be checked in by our Box Office team at the front door on the days of the performances. More info on the Young People's Concert tickets will be released soon.
If you have any questions or concerns, you can contact the Box Office at boxoffice@orlandophil.org or call 407.770.0071
Many of our Education and Outreach programs are made possible thanks to generous donations from individuals, companies, and foundations in our community. For more information about how you can support our Education and Outreach Programs, please contact our Director of Education and Community at aconrod@orlandophil.org, or visit our Ways You Can Give page.