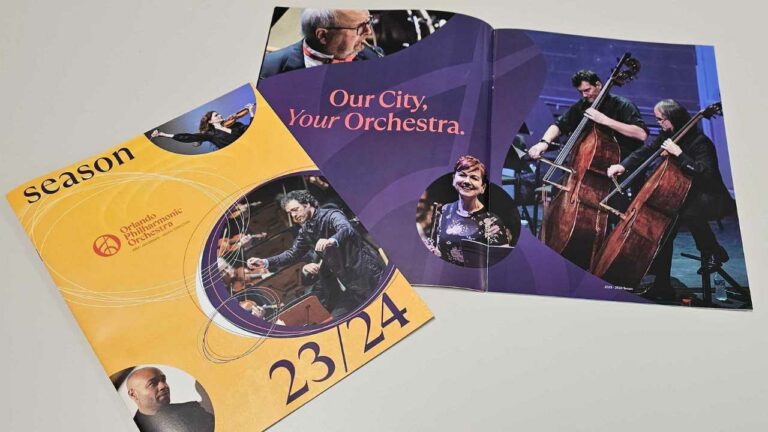 Last month I spoke about the newly-announced 2023-2024 Season and all the exciting highlights, from Pictures at an Exhibition to Batman. Most people don't realize, when you get that shiny new brochure in the mail, it's the culmination of over a year of planning.  
Here's how the process works. I'll use the planning of the next OPO Season after the newly announced one as my example.
Securing Concert Dates
First, about a year and a half in advance of Season's start, our team agrees internally on concert dates, aligns them with Eric Jacobsen's schedule, and clears them with regular partners like Opera Orlando and Orlando Ballet to avoid conflicts. (We can't avoid conflicts with every organization in a very active and thriving arts community, but we do the best we can with our most regular collaborators.)
We get those dates in front of our venue partners at the Dr. Phillips Center for the Performing Arts and await confirmation. That should come any day now for the 2024-2025 Season! Once we know our dates are secure, we can begin planning in earnest.
"The Tent"
Eric and I usually start with the Classics Series and identify the "tent poles" or major elements – these could be a major piece of repertoire, like The Rite of Spring, or a unique guest artist, like Yuja Wang, or a combination of both. We try to put up the tent poles before assembling the rest of the tent!
We usually work through multiple iterations of ideas for the Classics, Focus, and Resonate series', including repertoire and soloists. The "we" in the case is Eric, me, OPO staff (especially Operations and Marketing), and our Artistic Advisory Committee which includes significant representation from OPO musicians. The Pops Series is typically handled more at the staff level, working from a running list we keep of pops ideas that are suggested to us and programs that have worked well for us and for other orchestras. Symphony Storytime is developed by our Education staff and committee.
Major classical soloists and conductors tend to have their seasons planned 1-2 years in advance, so the early approach is necessary to assure that we can get the artists we want. Pops acts usually work with a somewhat shorter time frame, but since we announce the Season as a whole, we put that planning on the same 18 months out schedule as the classical programming.
By 9 months prior to season's start, the tent needs to be fully standing, meaning we have a complete season plan with guest artists and programs. This will be by December 2023 for the 2024-2025 Season.
Passing the Baton
The Season in this basic form is then turned over to the marketing team for such essential tasks as copywriting and graphic design. Along with that, our Box Office prepares renewal materials for our subscribers, with the idea being to make the renewal process as smooth and easy as possible, while still allowing patrons the opportunity to request changes in seating or series.
Finally, by March or April, we're ready to make that exciting Season announcement for the Season that will open the following September-October.
For me, this is one of the most interesting and important parts of orchestra management. After all, it's how our offerings are planned, and how they are marketed and promoted to the public. Excitement around programming and participation is then the catalyst for contributed support; showing we have exciting plans well into the future fosters interest and support from donors.
I hope to see you at this Season's finale concerts, on May 6, 7, and 13!
Paul Helfrich
Executive Director
---
Read more like this on our LinkedIn Newsletter: Paul's Perspective.