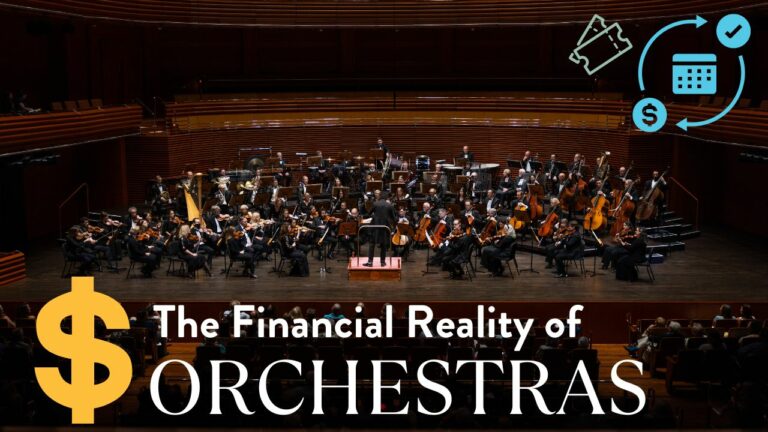 Here at the Orlando Philharmonic Orchestra, we are very grateful to all our ticket purchasers for their support of the orchestra. We're especially thankful for season subscribers, who have committed in advance to an entire series of concerts. Last month, I described a planning process for each season starting 18 months in advance. No one could work that far ahead without the stability of the subscription model. The advance assurance that at least some, hopefully more than half, of the seats are already sold is key to the ability of orchestras to plan ahead with a full season of diverse repertoire and to take some risks with less familiar artists and programming.
But the pandemic really put a hurt on subscription sales, here in Orlando and around the country, and they've recovered slowly. That makes us more and more reliant on individual concert or "single" tickets, which are more expensive to sell. That's because unlike subscriptions, which might be sold on the strength of one brochure and renewal mailing, single tickets take constant advertising and promotion, in a whole variety of media, in order for our sales goals to be met.
With that said, many folks are still surprised to learn that all ticket sales – even if we crush every single goal in our budget – do not cover the costs of most concerts. That's because each concert you see requires its own set of rehearsals and other associated expenses, including marketing, hall rental (no, we do not get to use the Dr. Phillips Center for free!), guest artists, and stagehands. Classics Series concerts, often called Masterworks concerts by other orchestras, are the most expensive of all, because they require the greatest number of musicians and the most rehearsal time. At best, ticket sales will cover about half the cost of a Classics Series concert, and overall, ticket sales cover only about 42% of our projected expenses every year. 
What kind of a business model is that? It's one that allows the orchestra to be in the community 365 days a year and to perform hundreds of concerts, including reaching over 75,000 schoolchildren. Sure, if one orchestra could perfect one program and never have to rehearse again, and then tour all over the country playing just that one program, that might…maybe…be profitable. That's basically the touring Broadway show model. By contrast, the 365 days a year model of an organization resident in and responsive to a community allows a much greater depth and breadth of service, and a greater impact on lives.
We still have to pay the bills, of course, and that's where philanthropy comes in. In short, it means that the other 58% of our income is contributed. We depend on the generosity of individuals, corporations, foundations, and other funders that share our vision and want the transformative power of live music in their community.
That's the financial reality of a symphony orchestra in a nutshell. Tickets don't pay for even half of it. We recognize that we must maintain a reasonable range of ticket prices to be accessible to many – we can't charge what it really costs, or every ticket would be $200 or more. That means we depend on generous funders to help make up the difference and keep the music alive for all of us. And as I mentioned last month, you can't attract the attention of funders without a compelling vision, a commitment to excellence, and a willingness to keep pushing the envelope.
Scary at times, but very exciting! However you support the Orlando Philharmonic Orchestra, you have my personal thanks and appreciation. Thank you for supporting great music and the musicians who play it!
Paul Helfrich,
Executive Director
---
Read more like this on our LinkedIn Newsletter: Paul's Perspective.