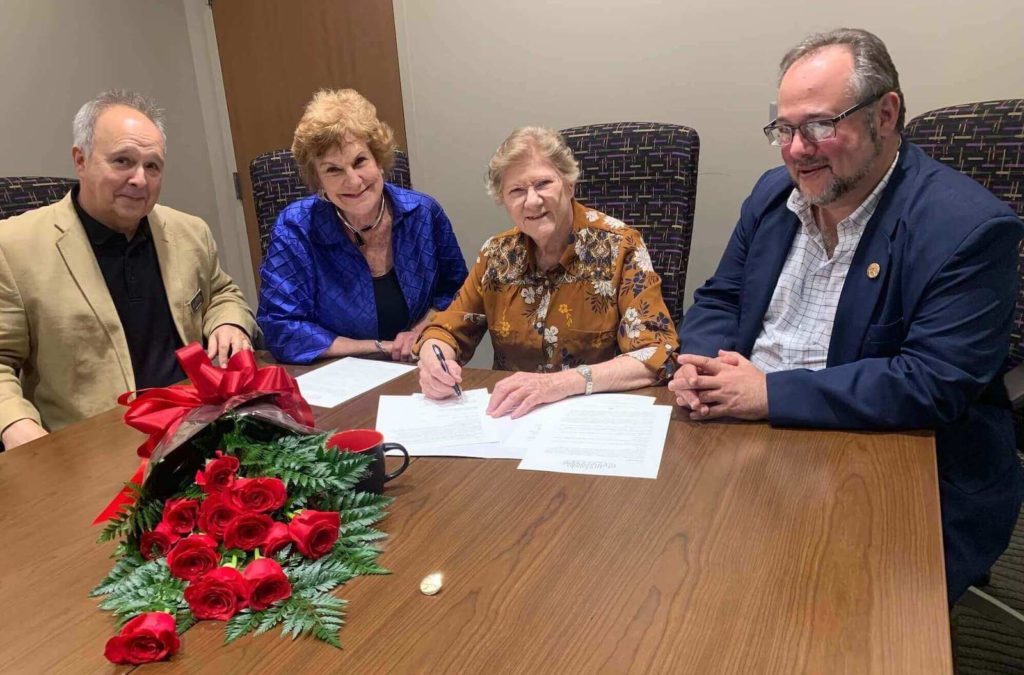 The Orlando Philharmonic Orchestra is pleased to announce the Carolyn Blice 2nd Horn Chair. An Orchestra member for over 51 years, Carolyn Blice, a generous annual donor, leaves a legacy for horn with a new endowment. "In early March, we were so pleased to greet Carolyn Blice for a gift agreement signing with Mary Palmer, President of our Board of Directors, and Mark Fischer, a founding member of the Orlando Philharmonic, to celebrate this generous gift establishing a new endowed chair. We are very grateful to Carolyn for this gift which also celebrates her long tenure with the Philharmonic," said Executive Director Paul Helfrich.
Carolyn Blice earned her B.A. degree at the College of New Jersey. While teaching music, she attended Temple University's Esther Boyer College of Music, earning an M.M. in Horn performance. Blice performed as a free-lance horn player in the Philadelphia area before coming to Florida. She was a long time member of the Florida Symphony Orchestra where she held the posts of Second, Third, and Assistant First Horns. Formerly she was Principal Horn in the Bach Festival Orchestra and Second Horn in the Orlando Philharmonic Orchestra. She has performed with the Mozarteum Sommerakademie Orchestra in Salzburg, Austria; Teton Festival Orchestra in Jackson, Wyoming; American Wind Symphony Orchestra in Pittsburgh, Pennsylvania; and such orchestras as the Jacksonville Symphony, Brevard Symphony, and Florida Classical Orchestra. A member of the International Horn Society, she has attended IHS Workshops in Manchester, England; Beijing, China; Lahti, Finland; Valencia, Spain; Cape Town, South Africa; La Chaux de Fonds, Switzerland; Brisbane, Australia; London, England; Ghent, Belgium; and many in the USA. She was present at the first International Horn Workshop in Tallahassee in 1969. She has been the director of the Florida French Horn Festival for the last 10 years. Blice teaches at Rollins College and at her private home studio.
"Playing in the orchestra has been one of the most exciting parts of my life. In looking at personnel lists in many orchestra programs ever since going to Philadelphia Orchestra when I was a student, I have always thought that one day I want to endow a chair. So if I can inspire others to leave a legacy, that would make me really happy," Blice said.
Mark Fischer now sits in the Carolyn Blice 2nd Horn Chair. He describes Carolyn as a friend, colleague, artist, teacher, mother, and mentor. "I had the good fortune to meet Carolyn Blice while auditioning for Fourth Horn with the Florida Symphony Orchestra in 1975. Carolyn and I were trained by Ward O. Fearn, formerly Second Horn with the Philadelphia Orchestra. At Mr. Fearn's request, Carolyn previewed my playing prior to the audition. Her keen ear for tone and phrasing gave me valuable feedback to win the position. I have learned much from Carolyn's respect for the fundamentals in music that laid the groundwork for future success of the Orlando Philharmonic Orchestra".
"Carolyn has had a distinguished 51-year career performing with the Florida Symphony Orchestra, the Orlando Philharmonic Orchestra, and more. Her endowment of the Second Horn Chair, which she held for over 22 years, is a beautiful testament to her commitment to music now and long into the future. We celebrate Carolyn and her generous gift and her fervently held belief in the power of music. She is truly a role model for us all," said Mary Palmer, President of the Orlando Philharmonic Orchestra Board of Directors. Fischer said, "Generosity at this level is all too rare, but it is the life's blood that sustains the music. The standards set by Carolyn on and off stage are those that sustain the future of great music in perpetuity."
Carolyn Blice joins other Philharmonic donors who have named chairs, including:
Concertmaster – The Lynn and Charles Steinmetz Chair
Associate Concertmaster – The Jeanne and John Blackburn Chair
Principal Viola – The Dr. Jefferson and Mrs. June Flowers Chair
Principal Clarinet – The Mary and Frank J. Doherty Chair
Principal Bassoon – The Theodore R. Hassen Chair
Principal Trumpet – The Stephen Goldman Chair
Principal Timpani – The Kenneth and Ann Hicks Murrah Chair
Learn more about how to make a contribution to the Orlando Philharmonic Orchestra.