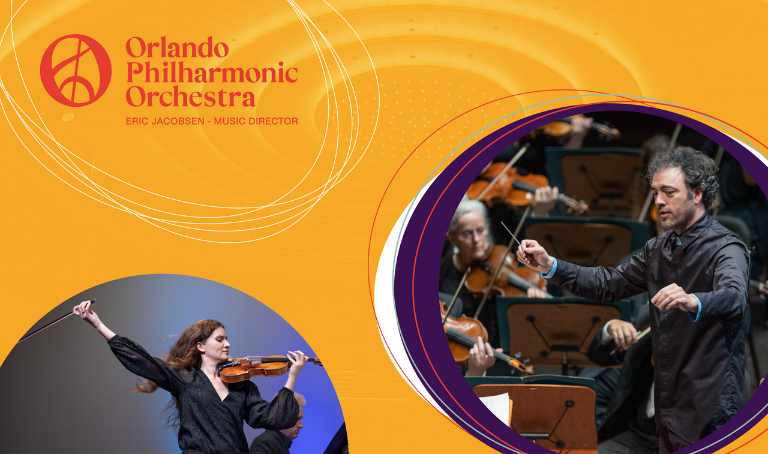 The Orlando Philharmonic Orchestra (OPO) is delighted to announce concerts for its 31st Season. The Philharmonic's inspiring music celebrates the diversity of Orlando, which is cultivated to reflect with programming and artists who will bring it to exuberant life, strengthening and enriching the musical bonds that unite the community.
The 2023-2024 Classics Season, will feature internationally acclaimed Pianists Emanuel Ax and Alexandra Dariescu, Violinist Bella Hristova, rising star Cellist Sterling Elliott, vocalists Jamie Barton and Sarah Shafer, and the brilliant Concertmaster Rimma Bergeron-Langlois joining Music Director Eric Jacobsen and the Orlando Philharmonic's fabulous orchestra.
Six concerts this season feature women on the podium: Mei-Ann Chen, Chloé van Soeterstède, Chelsea Gallo, and Georgia Mills, and exciting works by women composers Dai Wei, Katarina Leyman, and former Composer-in-Residence Anna Clyne.
Guests will enjoy a new piano concerto by James Lee III, frequent collaborator with the OPO and Music Director Eric Jacobsen, in addition to the grandest masterpieces in the repertoire, like Pictures at an Exhibition, The Rite of Spring, Brahms's Third Symphony, and Mahler's deeply moving "Resurrection" Symphony. Please join us for another season guaranteed to delight, inspire, and send spirits soaring.
Subscription renewals for current subscribers will be sent in the coming weeks and new subscriptions for the 2023-2024 Season will go on sale later this spring. For more information, please contact the Box Office at 407.770.0071 or boxoffice@orlandophil.org.
More information and concert details can be found at: www.orlandophil.org/2023-2024-season/
Orlando Philharmonic Orchestra 2023-2024 Season
Classics Series: Steinmetz Hall
Saturday at 7:30 p.m. & Sunday at 3:30 p.m.
CLASSICS 1 – September 30-October 1, 2023
PICTURES AT AN EXHIBITION
Steinmetz Hall
Eric Jacobsen, conductor
Bella Hristova, violin
Traditional National Anthem
Dai Wei The Dancing Moonlight
Barber Violin Concerto 
Mussorgsky/Ravel Pictures at an Exhibition
What a glorious beginning to our 2023-2024 Classics Series! Music Director Eric Jacobsen and the Orlando Philharmonic present the celebratory opening concert featuring Mussorgsky's "gallery crawl" (in Ravel's glittering orchestration). Come along as your "mind's ears" conjure the ten pictures on exhibit—including baby chicks pecking their way out of their shells, eerie Parisian "Catacombs," and "The Great Gate of Kiev" shaking you with the tumultuous pealing of bells in the grand finale. Bella Hristova (The New York Times praises her "expressive nuance and rich tone") steps into the spotlight for Barber's Violin Concerto, exploring its serenity, angularity, and shifting accents that demand formidable virtuosic abilities. Dai Wei's The Dancing Moonlight dazzles with energetic verve and rhythmic flair to start the concert.
CLASSICS 2 – November 4-5, 2023
THE RITE OF SPRING & EMANUEL AX
Steinmetz Hall
Eric Jacobsen, conductor
Emanuel Ax, piano
Anna Clyne This Moment (Virginia B. Toulmin Foundation Orchestral Commissions Program)
Mozart Piano Concerto No. 25, K. 503
Stravinsky The Rite of Spring
The remarkable Emanuel Ax ("his touch is amazing. The keys are not so much struck as sighed upon—moved as if by a breath." ~ Seattle Times) lavishes his prodigious talents on Mozart's stately piano concerto, whose trumpets and timpani underscore its classic elegance. Then sparks fly in The Rite of Spring, roaring to life with primeval rhythms and the raw energy of ancient pagan rituals. The violent Russian spring "seemed to begin in an hour and was like the whole earth cracking…," Stravinsky himself said. Abandon yourself to the electrifying pulses of this magnificent work—a thrilling visceral experience—whether you're hearing it for the first or 50th time. A new work by GRAMMY-nominated Anna Clyne reveals her bold and vivid voice.
CLASSICS 3 – January 13-14, 2024
RACHMANINOFF & RAVEL
Steinmetz Hall
Eric Jacobsen, conductor
Sterling Elliott, cello
Ravel La valse
John Corigliano Phantasmagoria, Suite from The Ghost of Versailles, arranged for cello and orchestra by the composer for Sterling Elliott (commissioned by the Orlando Philharmonic Orchestra; world premiere)
Rachmaninoff Symphonic Dances
Ravel's homage-with-a-twist to Johann Strauss, Jr. imagines a mid-19th century imperial court with couples dancing and whirling in a voluptuous waltz that ends in a wild, shattering climax. Cellist Sterling Elliott–whose stellar stage presence and joy in music-making—solos in John Corigliano's Phantasmagoria, a sort of "phantasy" on his opera Ghosts of Versailles, arranged for him by the composer. Rachmaninoff's kaleidoscopic Symphonic Dances, his last—and many say his greatest—work, includes a haunting alto saxophone, mysterious tubular bells, allusions to Russian Orthodox chants, a thundering Dies irae from the Mass for the Dead, and a shadowy, eerie waltz that seems to echo the darker harmonies of La valse that opens our concert.
CLASSICS 4 – February 24-25, 2024
BRAHMS THIRD SYMPHONY
Steinmetz Hall
Mei-Ann Chen, guest conductor
Alexandra Dariescu, piano
Mayer Faust Overture
James Lee III Piano Concerto (co-commissioned by the Orlando Philharmonic Orchestra; Florida premiere)
Brahms Symphony No. 3
Conductor Mei-Ann Chen, praised for her passionate conducting style, leads the Orchestra in the Florida premiere of the new Piano Concerto by Orlando favorite James Lee III. Bookending the Concerto is Emilie Mayer's Overture, whose Romantic vocabulary explores Faust's searching, questing soul and leads into the beautiful conclusion of our concert, Brahms's Third, often called his most personal symphony. "Like a rainbow after a thunderstorm," as the composer's biographer Karl Geiringer describes it, with an emotional palette that paints in colors of yearning, reflection, and serene acceptance.
CLASSICS 5 – March 16-17, 2024 
RIMMA, SIBELIUS & THE "ORGAN SYMPHONY"
Steinmetz Hall
Chloé van Soederstède, guest conductor
Rimma Bergeron-Langlois, violin
Katarina Leyman Roller Coaster: Super 8 
Sibelius Violin Concerto
Saint-Saëns Symphony No. 3, "Organ Symphony"
Intended to be a "free comment" on Beethoven's Eighth Symphony, Katarina Leyman's wild roller coaster ride gets us rolling in this crowd-pleasing concert. When the soloist enters over oscillating strings, it's as though the violin were emerging from some pristine Nordic landscape in Sibelius's concerto. The second movement spins a melody that embraces you with exquisite radiance, and the final Allegro, beginning with galloping timpani rhythms, is a breathless, non-stop showcase for Concertmaster Rimma Bergeron-Langlois's virtuosity. Saint-Saëns' beloved "Organ Symphony" propels you ever forward to the blazing C Major chord that shows off the power and majesty of "the queen of instruments."
CLASSICS 6 – May 11-12, 2024
MAHLER'S "RESURRECTION" SYMPHONY
Steinmetz Hall
Eric Jacobsen, conductor
Sarah Shafer, soprano
Jamie Barton, mezzo-soprano
University of Central Florida Chorus. Dr. Jeffery Redding, director
Stetson University Concert Choir, Dr. Timothy Peter, director
Mahler Symphony No. 2, "Resurrection"
Whatever your concept of heaven, when hearing Mahler's "Resurrection" Symphony you'll feel as though you were standing at the portals of paradise, welcomed by music that stirs your heart and soul. It encompasses memories of happiness, thunderous surges and brass fanfares, a serene, childlike song of faith, drum rolls, the last trumpet, and then—out of nowhere—a whispered chorus intones the ecstatic resurrection ode. Voices soar, singing of forgiveness, divine compassion, and eternal life: you have not lived in vain; what you have suffered, yearned and struggled for, and loved is not lost; it is yours. Do not quake; death is conquered; prepare yourself to live. You shall rise again, my heart, in an instant. Wings that you have won, shall carry you to God!
Pops Series: Steinmetz Hall
Saturday at 3:30  & 7:30 p.m.
Pops 1 – November 25, 2023  – Home for the Holidays  
Mauricio Céspedes-Rivero, conductor
Experience a reimagined and lively Home for the Holidays under the baton of Assistant Conductor Mauricio Céspedes-Rivero. A perfect way to ring in your holiday season with friends and family with holiday favorites, singers, and a few new holiday surprises.
Pops 2 – January 20, 2024 –    Prohibition 
Chelsea Gallo, conductor
The Music of Moulin Rouge, Boardwalk Empire and More! Imagine time-traveling one night through the dark cabarets and speakeasies of New York, Paris, Berlin, London and Atlantic City, reliving the 1920s in all its decadence…Prohibition, Gangsters, Ingénues and Intrigue. PROHIBITION takes you on a journey through the era, from Rudy Vallée to Josephine Baker, from Kurt Weill to King Oliver, featuring the top hits of the decade authentically arranged for orchestra by GRAMMY-winner Jeff Tyzik, accompanied by vintage imagery and video from the period.
 Pops 3 – March 9, 2024  –   BatmanTM (1989) film with orchestra 
Mark Watters, conductor
The Dark Knight of Gotham CityTM begins his war on crime with his first major enemy being Jack Napier, a criminal who becomes a clownishly homicidal villain known as The Joker. Enjoy Tim Burton's classic 1989 take on the comic book hero, featuring a brilliant score by Danny Elfman.
Information at – https://www.dcfilmsinconcert.com/batman-1989
Pops 4 – April 27, 2024 –     Symphony of Illusions  with Magician Michael Grandinetti 
Chelsea Gallo, conductor
Michael Grandinetti has made a name for himself around the world as a talented and innovative illusionist. Over the past 20 years, Michael has been driven to make magic contemporary and to give it a wide, mainstream appeal. Through his work, Michael is making the art of magic modern, innovative, charismatic, and exciting while showing audiences around the world that nothing is impossible.
Information at – http://www.michaelgrandinetti.com/
FOCUS SERIES: THE PLAZA LIVE
MONDAY AT 7 P.M.
FOCUS SERIES 2023-2024
The very first piece on our 2023-24 Focus Series—The Unanswered Question—suggests that, while humankind has been looking for explanations of life's most profound mysteries, more often than not, those answers have been elusive. But then there's music. "Music, of all the arts, stands in a special region, unlit by any star but its own, and utterly without meaning except its own. Music … can name the unnameable and communicate the unknowable" (~ Leonard Bernstein). We hope that the music on this series—by just BEING its own magnificent self—will work this miracle while delighting your ears and filling you with joy.
FOCUS 1 – October 16, 2023 
SEEKING ANSWERS
The Plaza Live
Eric Jacobsen, conductor
The Westerlies:
Riley Mulherkar, trumpet
Chloe Rowlands, trumpet
Andy Clausen, trombone
Willem de Koch, trombone
Ives The Unanswered Question
Conrad Tao Westerlies Concerto (commissioned by and for the Orlando Philharmonic Orchestra and The Westerlies; world premiere)
Traditional "Saro" (arr. Sam Amidon/Nico Muhly; adapted by The Westerlies)
Westerlies selections arranged for orchestra
Dvořák String Quartet No. 12, "American," for brass quartet and orchestra (arr. Curtis Stewart)
The opening work on this program immerses us in Ives's haunting mini-philosophy-lesson about the universe and man's eternal search for meaning in it. Three groups of players (a string orchestra, a solo trumpet, and a group of flutes) make their arguments with the inevitable conclusion. The Westerlies, an "arty quartet … mixing ideas from jazz, new classical, and Appalachian folk" (~ The New York Times) with a ferociously unique vision of brass—and yes, named for the prevailing west to east winds—blow in to play Conrad Tao's Westerlies Concerto. And in a classy-brassy pivot, an ear-stretching take on Dvořák's exuberant string quartet, especially arranged for the OPO and The Westerlies, is bound to please!
FOCUS 2 – November 13, 2023 
LATIN EXPLORATIONS BY MAGOS
The Plaza Live
Geoffrey Robson, guest conductor
Magos Herrera, vocalist
Piazzolla Tangazo (Variations on Buenos Aires)
Gabriela Lena Frank Leyendas (excerpts)
Magos Herrera Selections
Mexican-born songstress Magos Herrera has a vibrant vibe that will dazzle you. The Latin Jazz Network raves: "You can now declare Magos Herrera to be one of the greatest contemporary interpreters of song." Possessing one of the most expressive, spellbinding voices on today's music scene, she is a force in the jazz world. Her eloquent vocal improvisations and bold style connect elements of contemporary jazz and Latin American melodies, blending genre and language boundaries. Personally, Magos is a champion of women's causes, and on a recent recording she explored the question of finding communion in a time of isolation. Join guest conductor Geoffrey Robson and the OPO to experience this spellbinding night!
FOCUS 3 – February 12, 2024 
MUSIC FROM & FOR THE HEART
The Plaza Live
Georgia Mills, guest conductor
Colleen Blagov, flute
Lisa Nardi In This Heart (An Elegy for Strings) 
Mozart Flute Concerto No. 1
Stravinsky Octet
Copland Suite from Appalachian Spring
The ethereal In This Heart is your embarkation point for the works that encompass music from Lisa Nardi's elegy for victims of violence to the Suite from Copland's 1940s ballet about hope and dreaming and searching for the place that is just right (you'll recognize the beloved "Simple Gifts," based on a Shaker hymn). In between, Georgia Mills, one of our female conductors on the Focus Series, also leads Mozart's graceful—and virtuosic—Flute Concerto with plenty of opportunities for OPO's Principal Flute Colleen Blagov to display her abundant talents. Plus, Stravinsky's spirited Octet for winds and brass.
FOCUS 4 – March 25, 2024 
MINOR MATTERS
The Plaza Live
Chelsea Gallo, guest conductor
Washington Garcia, piano
Mendelssohn The Hebrides, a.k.a. Fingal's Cave
Mozart Piano Concerto No. 20
Bruckner Overture
Schubert Symphony No. 8, "Unfinished"​
The works on this program may all be in the Minor mode, but they are not minor matters! OPO Principal Guest Conductor Chelsea Gallo leads the Philharmonic in captivating musical offerings. To wit, acclaimed Pianist Washington Garcia solos in Mozart's Concerto, whose turbulent mood engages with dark beauty and intensity. Schubert's "Unfinished" Symphony presents us with a possibly unanswerable question: if its two movements are so beautifully imagined and brilliantly executed, leading to the final satisfying measures, how can it be considered anything but gloriously "finished"? Opening the concert, Mendelssohn sets waves a-rollin' in Fingal's Cave, the eerie concert overture inspired by his visit to Scotland.
FOCUS 5 – May 20, 2024
RIMMA PRESENTS MENDELSSOHN & TCHAIKOVSKY
The Plaza Live
Rimma Bergeron-Langlois, leader & violin
Arvo Pärt Fratres
Mendelssohn Concerto for Violin & String Orchestra
Tchaikovsky Souvenir de Florence, for string orchestra
This concert has Rimma's fingerprints—and fingers!—all over it! Not only did she curate it, she also leads the Orlando Philharmonic Orchestra and performs on all three works. First up is Arvo Pärt's shimmering classical music "hit," Fratres (Latin: Brethren), revealed through his tintinnabuli technique that immerses you in a meditative sound world. Then it's Mendelssohn's Violin Concerto—no, not THAT one. The wunderkind wrote another one at age 12! Across borders and decades, its manuscript was "rediscovered" and premiered by the legendary Yehudi Menuhin. And now you're the first OPO audience to hear it. Finally, Rimma and the Philharmonic's strings crown this evening with enriched memories of Tchaikovsky's beloved sunny-blue-skies-Florence.
SYMPHONY STORYTIME SERIES: THE PLAZA LIVE
SATURDAY 10 & 11:30 A.M. AND SUNDAY 11 A.M. & 12:30 P.M.
SST 1 – Oct 21-22, 2023     Spooky Serenades
SST 2 – Dec 9-10, 2023       Holly Jolly Sounds of the Season    
SST 3 – Mar 2-3, 2024             The Carnival of the Animals
SST 4 – April 20-21, 2024    Aesop's Fables
Symphony Storytime Series at The Plaza Live is specially designed with your family in mind. Enjoy live music for young children, ages three to seven, along with narration and beautiful hand-drawn illustrations that bring favorite children's classics to life. 3-performance and 4-performance subscription packages are available for the Symphony Storytime Series. Tickets are just $10 and children ages 2 & under are free. Group rates are available.
SUMMER SERENADES: 
SUNDAY AT 1 P.M., Brunch at Noon
performed at The Plaza Live Palmer Room
SS1 – July 9, 2023  – OPO Brass
SS 2 – July 23, 2023  – OPO Woodwinds
SS 3 – Aug 13, 2023 – Rimma and Friends Part 1
SS 4 – August 20, 2023  – Rimma and Friends Part 2
RESONATE FESTIVAL: THE PLAZA LIVE February 1, 3, 5, 2024
Welcome to the 2024 RESONATE FESTIVAL
with Artist-in-Residence Pianist Aaron Diehl and his Jazz Trio
For the third year, Music Director Eric Jacobsen has imagined and created a multi-faceted Resonate Festival that is sure to resonate with you—our audience—in these complex times for our country. And he has invited critically acclaimed Pianist Aaron Diehl to be our Artist-in-Residence for a lineup of captivating repertoire for the orchestral and Late Night concerts of the series.
So what's on?
The outstanding musicians of your Orlando Philharmonic Orchestra, led by Music Director Eric Jacobsen
Three nights of music, six different concerts—February 1, 3, and 5, 2024; performances at 7 p.m. and 8:45 p.m. each evening
Artist-in-Residence Aaron Diehl, piano
Works featuring Aaron: Bach's Brandenburg Concerto No. 1 and Harpsichord Concerto No. 1; and Mary Lou Williams' Zodiac
A Prelude Concert with the world premiere of Ron Ramin and Portia Kamons' Seventeen
Engaging orchestral works by Bach, Mozart, and Weill
Time Out after the orchestra concerts to mix, mingle, sip, and chat with friends old and new (bar service available). Then, off to the Palmer Room for some fantastic music of diverse "flavors": from a symphony, a double concerto, and Irish folk music to compositions for violin, clarinet, and Aaron Diehl's jazz trio
Post-Late Night on February 5 you might want to say hello to Aaron and his Jazz Trio and celebrate the successful conclusion of Resonate Festival 2024
Introducing Artist-in-Residence Aaron Diehl
Pianist and composer Aaron Diehl has appeared at historic venues from Jazz at Lincoln Center and The Village Vanguard to the New York Philharmonic and the Philharmonie de Paris. Born in Columbus, Ohio, Aaron traveled to New York in 2003, following his success as a finalist in Jazz at Lincoln Center's Essentially Ellington competition and a subsequent European tour with Wynton Marsalis. For some years he immersed himself in distinctive repertoire from Monk and Ravel to Gershwin and William Grant Still. Among other towering figures, still in particular inspires Aaron's ongoing curation of Black American composers in his own performance programming. He has enjoyed artistic associations with Wynton Marsalis, Branford Marsalis, Wycliffe Gordon, Philip Glass, and multi-GRAMMY-Award-winning artist Cécile McLorin Salvant. He recently appeared with the New York Philharmonic and the Cleveland Orchestra as a featured soloist. He holds a bachelor of music degree in Jazz Studies from the Juilliard School. As a licensed pilot, when he's not at the studio or the concert hall, he's likely in the air.
What's the deal with Diehl?
"Diehl's manner immediately resonated with great masters of the past. His long fingers arced gracefully over the keys, suspended for a time before actually touching them. When they did finally touch, they called forth a sound that was pure silk, light, delicate, as if from another age, or perhaps a breath of wind on a clear day." ~ Boston Musical Intelligencer
"Diehl has developed an organic, sophisticated approach" ~ DownBeat
"There's an entire world of jazz in Aaron Diehl's playing … Diehl has a freedom and playfulness that makes you hear the piece anew … With a highly improvisatory approach, he makes the case that jazz is not one style or genre but many, gliding gorgeously among decades of artistic influences. ~ Philadelphia Inquirer
Tuesday, January 30, 2024, 7 p.m.
PRELUDE PROGRAM: ART IN THE TIME OF WAR
Venue TBD
Eric Jacobsen, conductor
Mahler Adagietto from Symphony No. 5
Ron Ramin and Portia Kamons Seventeen (world premiere)
Shostakovich Chamber Symphony Op. 110a (after String Quartet No. 8)
Three generations ago, following JFK's assassination, Leonard Bernstein said: "This will be our reply to violence: to make music more intensely, more beautifully, more devotedly than ever before." At this concert, Seventeen, created by Portia Kamons and Ron Ramin, explores how a younger generation is responding to violence and seeking a more peaceful and equitable world. And so it is with the other elegiac works on the program that lend themselves to contemplative, memorial occasions: Mahler's ethereal Adagietto, for example, played at RFK's funeral, and Shostakovich's Chamber Symphony, "In memory of the victims of fascism and war," written after having seen the total destruction of Dresden by Allied bombardment in World War II.
—————————————————————————————–
I.
Thursday, February 1, 2024, 7 p.m.
BLUES ON BACH
Main Hall of The Plaza Live
Eric Jacobsen, conductor
Aaron Diehl, piano
Patrick Flanaghan, oboe
John Lewis Blues on Bach
Bach Brandenburg Concerto No. 1 in F Major, BWV 1046
Bach Harpsichord Concerto D Minor, BWV 1052
Music Director Eric Jacobsen leads off our Resonate Series with Bach—both the "original" and John Lewis' take on Johann Sebastian tunes. Then it's the exuberant first Brandenburg Concerto that grants a star turn to critically acclaimed Patrick Flanaghan (principal English horn of London's Royal Philharmonic Orchestra) playing in the exquisite Adagio. Bach, like other composers of his time, liked to "borrow" from the best. So that meant borrowing from himself, of course! We don't know what work(s) inspired the BWV 1052 harpsichord concerto, but we do know that it is his best-loved, performed by our Artist-in-Residence. But be warned: the non-stop driving rhythms and virtuosic cadenzas may leave you a little breathless.
Thursday, February 1, 2024, 8:45 p.m.
BACH & IRISH FUN
The Palmer Room of The Plaza Live
Aoife Ní Bhriain, fiddle
Patrick Flanaghan, oboe
OPO String Quartet
J.S. Bach Concerto in D Minor for Oboe & Violin, BWV 1060
Irish folk music
Dublin-born fiddle player Aoife Ní Bhriain's musical pedigree embraces both classical music training and a rich family heritage of Irish folk music. This concert is a case in point, as she and renowned oboist Patrick Flanaghan—plus the OPO String Quartet—get together for some lively Irish tunes that, without warning, might morph into other sound environments. Starting the Late Night festivities, and also featuring Patrick and Aoife, it's Bach's Concerto in D Minor for Oboe & Violin, probably written for one of Bach's Zimmermann Coffeehouse events in Leipzig. Special moments to savor: in the Adagio movement the solo instruments seem to intertwine while the orchestral strings play a simple pizzicato (plucked) accompaniment. Gorgeous!
II.
Saturday, February 3, 2024, 7 p.m.
ZORA NEALE HURSTON
Main Hall of The Plaza Live
Eric Jacobsen, conductor
John Lewis A Day in Dubrovnik
Weill Symphony No. 1
Kaia Kater Zora Neale Hurston (world premiere)
Internationally known and honored with awards and prizes, Grenadian-Canadian singer, songwriter, and banjo artist Kaia Kater pays homage to the great Zora Neale Hurston, whose novels, short stories, and plays focus on racial struggles in the South in the early 1900s.
The First Symphony by Weill (you know his macabre song "Mack the Knife"—watch for it later this evening on the Late Night concert) reflects the troubled times after World War I—sometimes meditatively, sometimes with martial cadences. In the opening number, jazzy tourists visit an Old World town.
————————————-
Saturday, February 3, 2024, 8:45 p.m.
CELEBRATING AMERICAN MUSIC
The Palmer Room of The Plaza Live
Rimma Bergeron-Langlois, violin
Sarah Williams, violin
Gabriel Preisser, baritone
Gershwin Works for violin and piano
Jessie Montgomery Rhapsody
Prokofiev Sonata for Two Violin
Weill Songs
"Lost in the Stars"
"Mack the Knife"
"September Song"
Our Concertmaster Rimma shines in works by Americans of different eras: Gershwin and young superstar-composer Jessie Montgomery's virtuosic Rhapsody. Kurt Weill embraced his adopted country, creating legendary Broadway musicals and unforgettable songs that are now part of the beloved American Songbook. You'll be treated to some iconic favorites, irresistibly performed by Grammy Award-winner Gabriel Preisser ("impossibly charming … Whenever he's on stage, the energy sizzles." ~ Tampa Bay Times).
be dedicated to a different an historical composer. This virtuosic piece was commissioned
III.
Monday, February 5, 2024, 7 p.m.
ZODIAC
Main Hall of The Plaza Live
Eric Jacobsen, conductor
Aaron Diehl, piano
Aaron Diehl Jazz Trio
Mozart Symphony No. 31, "Paris"
Williams Zodiac Suite
Dying to get away from his despised Salzburg employer, Mozart was on a job-hunting trip when he composed his 31st Symphony, for the Paris Orchestra (which happened to have a great clarinet section). He loved the instrument and—spoiler alert—this is his first symphony to use clarinets. Now, turn your eyes heavenward for illuminating impressions of musicians' respective star signs by the legendary pianist/composer Mary Lou Williams. She masterfully combines jazz and classical idioms to depict the personalities of Ben Webster and Billie Holiday in "Aries"; Duke Ellington in "Taurus"; Art Tatum in "Libra"; Eartha Kitt in "Aquarius," and more!
Monday, February 5, 2024, 8:45 p.m.
ALL THAT JAZZ
The Palmer Room of The Plaza Live
Jazz Cabaret with local artists
COMMUNITY PERFORMANCES & EVENTS
"Concerts performed through the Central Florida community that are perfect family-friendly events to experience live music all year long!"
June 24, 2023                   Liberty Weekend at Orlando International Airport
June 3, 2023                      Classical Storytime for Kids: Carnival of the Animals 9:30 a.m. & 11:30 a.m. at Bok Tower
June 10, 2023                    Classical Storytime for Kids: The Tale of Peter Rabbit 9:30 a.m. & 11:30 a.m. at Bok Tower
July 8, 2023                        Classically Summer Brass at Bok Tower
July 22, 2023                     Classically Summer Woodwinds at Bok Tower
August 5, 2023                  Classical Storytime for Kids: The Emperor and The Nightingale 9:30 a.m. & 11:30a.m. at Bok Tower
August 19, 2023               Classically Summer Rimma and Friends Part 2 at Bok Tower
August 25, 26, 27, 2023                The Carnival, in collaboration with Creative City Project
Holiday pops     Bok Tower December 2, Winter Park December 3, Apopka December 9
February 17, 2024 Rhapsody 2024 featuring Robert McDuffie, violin soloist
A gala fundraiser to benefit your Orlando Philharmonic Orchestra.
Spring pops        St Lukes March 1, Apopka March 2, Winter Park March 3
# # #