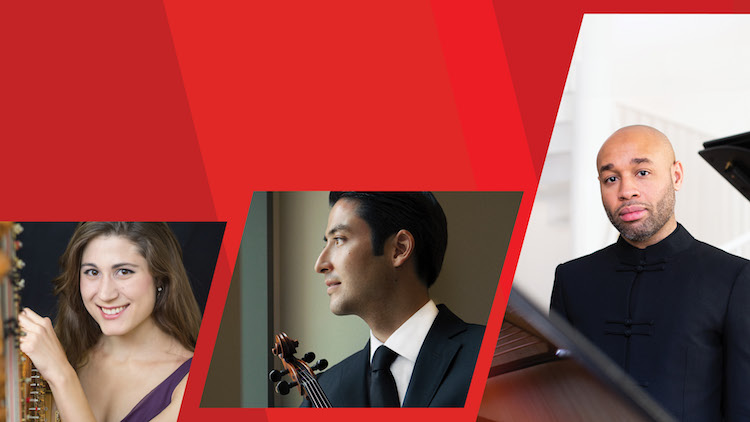 Pianist Stewart Goodyear to be Artist-in-Residence
The Orlando Philharmonic Orchestra announces its 2021-2022 Season today, including six concerts on the Classics Series, and five concerts on the Pops Series. The Season will also include the Focus Series, with an expanded six-concert series at The Plaza Live Theater in The Milk District just east of Downtown Orlando, as well as the four-concert Symphony Storytime Series. In an exciting program expansion, the Resonate Festival returns for three evenings in February 2022, featuring Artist-in-Residence Stewart Goodyear.
The Philharmonic will bring in a diverse and exciting lineup of guest artists throughout the 2021-2022 Season. On the podium for his seventh Season with the Philharmonic, Music Director Eric Jacobsen will conduct all of the Classics Series and select concerts on the Focus and Pops Series. Jacobsen will also be featured on all three nights of the Resonate Festival.
Soloists headlining the Classics Series include superstar Violinist Gil Shaham, Concertmaster Rimma Bergeron-Langlois, Grammy-award Winning Violist Masumi Per Rostad, the return of Pianist Benjamin Hochman, Pianist Aaron Diehl, and the University of Central Florida Choir.
Artist-in-Residence Stewart Goodyear, proclaimed "a phenomenon" by the Los Angeles Times, will perform all five Beethoven piano concertos over three evenings on the Resonate Festival.  The  Festival will take place at The Plaza Live on February 3, 5, and 7, 2022, with two concerts each night.
The 2021-2022 Pops Series opens with the audience favorite, Home for the Holidays, a celebration of the Kings of Soul in January, a festive Irish celebration featuring The Celtic Tenors in March, Cirque de la Symphonie returns in April with the music of Broadway, and Music Director Eric Jacobsen takes the podium in May with music of the Great American Songbook featuring World-renowned guitarist and singer John Pizzarelli.
The Focus Series will feature Philharmonic Musicians including Principal Harp Haley Rhodeside and Principal Flutist Colleen Blagov in October, the OPO Brass and Percussion in November under the baton of Lyman Brodie, Concertmaster Rimma Bergeron-Langlois and friends with Holiday Baroque in December, and Principal Horn Vincent Kiray in January. Rising star Cellist   Sterling Elliott performs in February and Fiddler Jeremy Kittle returns for a special recording concert in April.
The Symphony Storytime Series for young children features fun, family-friendly programs including Little Red Riding Hood, Holly Jolly Sounds of the Season, Ferdinand the Bull, and A Treeful of Monkeys, all performed at The Plaza Live.
Subscription renewals for current subscribers begin in the coming weeks and new subscriptions for the 2021-2022 Season will go on sale later this spring. For more information, please contact the Box Office and 407.770.0071 or boxoffice@orlandophil.org.
Orlando Philharmonic Orchestra 2021-2022 Season
Classics Series
Classics 1 –
BRAHMS & GOTTSCHALK: AN OPENING NIGHT MIX TAPE
September 25, 2021 at 7:30 p.m.
Calvary Orlando, Winter Park
Eric Jacobsen, conductor
Rimma Bergeron-Langlois, violin
Louis Moreau Gottschalk     Symphony No. 2, "À Montevideo" (Presto maestoso)
Johannes Brahms                  Violin Concerto
Louis Moreau Gottschalk     Symphony No. 2, "À Montevideo" (Andante)
Johannes Brahms                  Symphony No. 2
With Music Director Eric Jacobsen and the Orlando Philharmonic, Concertmaster Rimma Bergeron-Langlois executes the technical fireworks of Brahms's exuberant Violin Concerto; and his Second Symphony dazzles with brasses ablaze in the finale. Woven in between, movements of Symphony No. 2 by American composer Louis Moreau Gottschalk ("the first eloquent and authentic spokesman of the New World," contemporary critics raved)– a sneak preview of the symphony we'll be recording later this season.
Classics 2 –
DVOŘÁK'S POSTCARD "FROM THE NEW WORLD"
October 23, 2021 at 7:30 p.m.
Calvary Orlando, Winter Park
Eric Jacobsen, conductor
Masumi Per Rostad, viola
James Lee III                       "Amer'ican" (world preview)
Jessie Montgomery             Viola Concerto (co-commissioned with the Grant Park Music Festival) (world premiere)
Antonín Dvořák                    Symphony No. 9, "From the New World"
Dvořák urged fellow-composers to seek inspiration in their own cultures, as he did in his beloved Ninth, drawing on African- and Native American melodies he heard during his American sojourn (yet never forgetting the rhythms and colors of his native Bohemia). You'll also hear exciting contemporary voices: African American composers James Lee III's Amer'ican and Jessie Montgomery's Viola Concerto, composed for Grammy Award-winner Masumi Per Rostad.
Classics 3 –
HOCHMAN, BRAHMS & SIBELIUS
November 6, 2021 at 7:30 p.m.
Calvary Orlando, Winter Park
Eric Jacobsen, conductor
Benjamin Hochman, piano
Samuel Coleridge-Taylor           Two Waltzes
Johannes Brahms                       Piano Concerto No. 1
Jean Sibelius                                Symphony No. 5
Jean Sibelius                               Finlandia
Benjamin Hochman returns to the OPO stage for Brahms's First Piano Concerto, technically brilliant and unabashedly romantic (with a not-so-subtle declaration of love to Clara Schumann in its glowing Adagio). A silvery flight of swans inspired Sibelius's glorious Fifth Symphony, while his fierce, stirring Finlandia, with its hymn-like outcry for freedom, is often called Finland's unofficial national anthem. Waltzes by Afro-British composer Samuel Coleridge-Taylor raise the curtain.
Classics 4 –
GERSHWIN'S CONCERTO IN F
January 8, 2022 at 7:30 p.m.
Calvary Orlando, Winter Park
Eric Jacobsen, conductor
Aaron Diehl, piano
Alicia Hall Moran, Holland Andrews, Holcombe Waller & Gabriel Kahane, vocals
Choir of Members of the Orlando Homeless Community
Wang Jie                         Symphonic Overture, "America, the Beautiful"
George Gershwin          Concerto in F
Gabriel Kahane             emergency shelter intake form
Acclaimed pianist Aaron Diehl excels at both jazz and classical music, making Gershwin's jazzy-bluesy Concerto in F the perfect vehicle for his show-stopping talents. Members of Central Florida's homeless community join in for Gabriel Kahane's "magnum opus, which unflinchingly confronts an American social problem that continues to worsen: homelessness" (~Chicago Tribune) as expressed through pop, folk, classical music, humor, biting satire, and sometimes outrage. The lyrics of "America, the Beautiful" stirred Wang Jie's patriotism in her hopeful riff on the song.
Classics 5 –
GIL SHAHAM PLAYS BEETHOVEN
March 5, 2022 at 7:30 p.m.
Calvary Orlando, Winter Park
Eric Jacobsen, conductor
Gil Shaham, violin
Rimma Bergeron-Langlois, violin
Angélica Negrón                What Keeps Me Awake
Ludwig van Beethoven     Violin Concerto
Pablo de Sarasate               Navarra
Dmitri Shostakovich         Symphony No. 10
Superstar Gil Shaham performs Beethoven's magisterial concerto—a creation of dramatic and emotional impact, and Latina composer Angélica Negrón reflects on the struggles with the creative process. In the Tenth Symphony Shostakovich unleashes his fury against Stalin in a demonic, violent battle with pitches equivalent to the initials of his name, D-S-C-H, pounded out like a code that crushes the tyrant in the wild, triumphant finale.
Classics 6 –
CARMINA BURANA
May 7, 2022 at 7:30 p.m.
Calvary Orlando, Winter Park
Eric Jacobsen, conductor
University of Central Florida (UCF) Chorus, Jeffery Redding, director
Opera Orlando Youth Company, Robin Jensen, director
Alison Moritz, stage director
John Heginbotham, choreographer
Wolfgang Amadeus Mozart     Symphony No. 35, "Haffner"
George Walker                           Lilacs for voice and orchestra
Carl Orff                                      Carmina burana
A feast for the ears and eyes, Carmina burana is guaranteed to wow you with musicians, vocal soloists, choruses, dancers, staging, and costumes. Starting and ending with the riveting hymn to the capricious Goddess Fortuna and her relentlessly turning wheel, bold tunes and primal rhythms celebrate nature, the tavern, and the pleasures of love. It's earthy, rowdy, and risqué, but sometimes breathtakingly beautiful. Plus, Mozart's celebratory symphony and African-American composer George Walker's Pulitzer Prize-winning Lilacs (set to Walt Whitman's haunting text on the death of Abraham Lincoln).
Focus Series
Focus 1 –
AN EVENING OF MOZART
October 11, 2021 at 7 p.m.
The Plaza Live
Mauricio Cespedes-Rivero, viola and conductor
Haley Rhodeside, harp
Colleen Blagov, flute
Wolfgang Amadeus Mozart            Divertimento for Strings
Wolfgang Amadeus Mozart            Concerto for Flute, Harp, and Orchestra
Wolfgang Amadeus Mozart            Sinfonia Concertante for Violin, Viola, and Orchestra
Focus 2 –
OPO BRASS PRESENT OPERATIC AND SYMPHONIC FAVORITES
November 15, 2021 at 7 p.m.
The Plaza Live
Lyman Brodie, conductor
OPO Brass and Percussion
Engelbert Humperdinck                               Opening Scene and Witches' Ride from Hansel and Gretel
Richard Strauss                                               Final Trio from Der Rosenkavalier
Modest Mussorgsky arr. Michael Allen      Pictures at an Exhibition
Focus 3 –
HOLIDAY BAROQUE WITH RIMMA
December 13, 2021 at 7 p.m.
The Plaza Live
Rimma Bergeron-Langlois, violin and conductor
Diane Bishop, bassoon
Colleen Blagov, flute
Jamie Strefeler, oboe
Johann Sebastian Bach                            Brandenburg 2
Antonio Vivaldi                                          Flute Concerto
Antonio Vivaldi                                          Concerto for Strings
Tomaso Albinoni                                       Oboe Concerto
Giuseppe Torelli                                        Christmas Concerto
Antonio Vivaldi                                          Bassoon Concerto
Antonio Vivaldi                                          Winter from The Four Seasons
Focus 4 –
AN EVENING OF MOZART AND BEETHOVEN
January 24, 2022 at 7 p.m.
The Plaza Live
Chloé van Soeterstède, conductor
Vincent Kiray, horn
Jessie Montgomery                         Starburst
Wolfgang Amadeus Mozart           Horn Concerto No. 3
Ludwig van Beethoven                   Symphony No. 4
Focus 5 –
STAR OF TOMORROW
February 28, 2022 at 7 p.m.
The Plaza Live
Eric Jacobsen, conductor
Sterling Elliott, cello
Florence Price                       Concert Overture No. 2
John Corigliano                    Phantasmagoria
David Popper                       Hungarian Rhapsody
Robert Schumann               Symphony No. 1
Focus 6 –
JEREMY KITTEL RETURNS
April 25, 2022 at 7 p.m.
Calvary Orlando
Eric Jacobsen, conductor
Jeremy Kittel, fiddle
Colleen Blagov, flute
Jeremy Kittel                            Fiddle Concerto "Stones River"
Jermey Kittel                            Pando
Louis Moreau Gottschalk      Symphony No. 2
Pops Series
Pops 1 –
HOME FOR THE HOLIDAYS
November 27, 2021 at 3:30 and 7:30 p.m.
Festival Park
Mauricio Céspedes Rivero, conductor
The Holiday Singers, Connie Brink, director
Opera Orlando Youth Company, Robin Jensen, director
Special guests Heather Thorn and Vivacity
Experience Home for the Holidays in the beauty of the outdoors with the wonderful sounds of the season. With the Holiday Singers, children's choir, and other favorite guests, it's the perfect way to kick off the holiday season with your Orlando Philharmonic Orchestra!
Pops 2 –
KINGS OF SOUL
Marvin Gaye, Smokey Robinson, James Brown, & more! 
January 15, 2022 at 3:30 and 7:30 p.m.
Calvary Orlando
Kenneth Freed, conductor
Chester Gregory, Darren Lorenzo, Michael Lynche, vocalists
Kings of Soul showcases the music of legendary artists Marvin Gaye, Jackie Wilson, James Brown, Otis Redding, The Temptations, Al Green, Barry White, Smokey Robinson, and Curtis Mayfield in an evening of soulful rhythms and melodies. Honoring the true "Kings" of classic soul, featured hits include Soul Man, Stand By Me, Move On Up, Your Love Keeps Lifting Me Higher, and more.
Pops 3 –
THE CELTIC TENORS
March 12, 2022 at 3:30 and 7:30 p.m.
Calvary Orlando
Jeri Lynne Johnson, conductor
Matthew Gilsenan, James Nelson, Daryl Simpson, vocalists
The only tenor group with a truly global audience, The Celtic Tenors will give you a night to remember. Experience a sparkling and good-humored performance by three world-class artists. An evening to savor and a night with tenors who are the most successful classical crossover act to emerge from Ireland. It's all about the music, the harmonies, and the fun!
Three unique solo voices, but when called upon – One Tenor Sound!
Pops 4 –
CIRQUE GOES BROADWAY
April 9, 2022 at 3:30 and 7:30 p.m.
Calvary Orlando
Mauricio Cespedes Rivero, conductor
Cirque de la Symphonie returns set to the soundtrack of Broadway's most memorable show tunes. Prepare to be dazzled as your Orlando Philharmonic Orchestra is joined on stage by aerialists and acrobats, accomplishing astonishing feats of grace, beauty, and power! Featuring songs from Wicked, Chicago, Cats, West Side Story, and more!
Pops 5 –
THE GREAT AMERICAN SONGBOOK WITH THE JOHN PIZZARELLI TRIO
May 14, 2022 at 3:30 and 7:30 p.m.
Calvary Orlando
Eric Jacobsen, conductor
John Pizzarelli Trio
World-renowned guitarist and singer John Pizzarelli has been hailed by the Boston Globe for "reinvigorating the Great American Songbook and re-popularizing jazz." His band is one of the top interpreters of the American Songbook.
Symphony Storytime Series
at The Plaza Live
Performance Times:
Saturdays at 10 and 11:30 a.m.
Sundays at 11 a.m. and 12:30 p.m.
SST 1 –
LITTLE RED RIDING HOOD
September 11 & 12, 2021
Little Red Riding Hood is among the most popular fairy tales in the world. A story about the never-ending fight between good and evil, greed and hope, responsibility, and second chances. Featuring our friends from the Orlando Philharmonic woodwind quintet and piano, join us on the exciting journey through the deep woods to grandmother's house we go!
SST 2 –
HOLLY JOLLY SOUNDS OF THE SEASON
December 4 & 5, 2021
Join members from the brass and percussion families for a musical celebration that will capture the spirit of the season! Orlando Philharmonic Orchestra musicians will play their way through holiday classics, from Frosty the Snowman to Rudolph the Red-Nosed Reindeer. The perfect way to celebrate the season with family!
SST 3 –
FERDINAND THE BULL
February 19 & 20, 2022
Ferdinand is a peace-loving bull who wants nothing more than to sit and smell the flowers. An inspiring story of peace and standing up to bullies. Brought to life by our string family and the music of George Bizet's Carmen, your family will fall in love with Ferdinand!
SST 4 –
A TREEFUL OF MONKEYS
May 21 & 22, 2022
Based on a traditional African folk tale, A Treeful of Monkeys takes us on a story about a hat seller who takes a nap under a tree, only to wake up and discover that monkeys had taken all of his hats! Join our mixed ensemble as we work with the narrator to get all of his hats back.
Resonate Festival: Beethoven
The Plaza Live
February 3, 5, 7, 2022
Times: Orchestra Concerts at 7 p.m. | Chamber Music Concerts at 9 p.m.
Orchestra Concerts: Main Hall of The Plaza Live
Chamber Music Concerts: Palmer Room at The Plaza Live
Eric Jacobsen, music director
Stewart Goodyear, piano & artist-in-residence
Welcome to our exciting new concert series, guaranteed to resonate with you in every way. It checks all the boxes for classical music fans!
The fantastic Orlando Philharmonic Orchestra
Our engaging Maestro Eric Jacobsen
Pianist Stewart Goodyear, Artist-in-Residence
Show-stopping repertoire: Beethoven piano concertos, plus, plus
Intimate chamber music performed by OPO musicians and Stewart Goodyear
In between, time to catch your breath and hang out with other like-minded music aficionados.
What's on?
Our first-ever Artist-in-Residence Stewart Goodyear ("a phenomenon" ~Los Angeles Times; "one of the best pianists of his generation" ~Philadelphia Inquirer) solos in all five brilliant Beethoven piano concertos…in just three concerts. Do not miss this rare happening!
What to listen for
From the three crashing chords with which the pianist announces himself in the Third Concerto to the intimate "conversation" between soloist and orchestra in the Fourth, to the regal "Emperor" Concerto—a crowning achievement. And if that weren't enough, Stewart will up the stakes by improvising the cadenzas on the spot in the first four concertos.
Beethoven 360
Stewart enthuses: "Performing these concertos gets me into the public side of Beethoven—great theatre, great drama, great virtuosity, and, most importantly, great merriment. These pieces show him as entertainer, actor, storyteller, and playwright. To me, these concertos are pursuits of unbridled joy."
The "Olympics" at RESONATE
These pianistic feats (yes, feats!) require intelligence, amazing memory, focus, and just plain stamina. "Mentally and physically, I train like an Olympic athlete…lots of repetition and building muscle memory in my fingers, so that by the time I rehearse and perform, my focus will be on an organic collaboration between conductor, orchestra, and audience," says Stewart.
Breathe!
You'll need it! After each breathtaking Orchestra Concert, mix and mingle with fellow-concertgoers (bar service available) before heading to the Palmer Room for music that's up close and personal.
Getting intimate
After the break, it's beguiling chamber music, including the "Ghost" piano trio, sublime sonatas, the cheery Septet, and, in the solo spotlight, Stewart plays the "Moonlight" Sonata, "Für Elise," and more.
You MUST be there!
Thursday, February 3, 2022
Orchestra Concert: 7 p.m.
Beethoven            Piano Concerto No. 2 in B-flat Major, Op. 19
Beethoven            Piano Concerto No. 3 in C Minor, Op. 37
Chamber Music Concert: 9 p.m.
Stewart Goodyear, piano
Rimma Bergeron-Langlois, violin
Beethoven            Sonata No. 12 in A-flat Major, Op. 26
Beethoven            Violin & Piano Sonata in C Minor, Op. 30, No. 2
Saturday, February 5, 2022
Orchestra Concert: 7 p.m.
Beethoven            Piano Concerto No. 1 in C Major, Op. 15
Beethoven            Piano Concerto No. 4 in G Major, Op. 58
Chamber Music Concert: 9 p.m.
Stewart Goodyear, piano
Rimma Bergeron-Langlois, violin
Eric Jacobsen, cello
Beethoven            Sonata No. 14 in C-sharp Minor, Op. 14, No. 2, "Moonlight"
Beethoven            Piano Trio in D Major, Op. 70, No. 1, "Ghost"
Monday, February 7, 2022
Orchestra Concert: 7 p.m.
Beethoven            Leonore Overture No. 3
Reena Esmail       The History of Red (OPO commission – World Premiere)
Kathryn Mueller, soprano
Beethoven Piano Concerto No. 5 in E-flat Major, Op. 73, "Emperor"
Chamber Music Concert: 9 p.m.
Rimma Bergeron-Langlois, violin
Mauricio Céspedes-Rivero, viola
Ronald Gardiner, cello
Don-Michael Hill, bass
Nikolay Blagov, clarinet
Vincent Kiray, horn
Diane Bishop, bassoon
Stewart Goodyear, piano
Beethoven          Septet
Beethoven          "Für Elise"; Andante favori; Rondo a capriccio