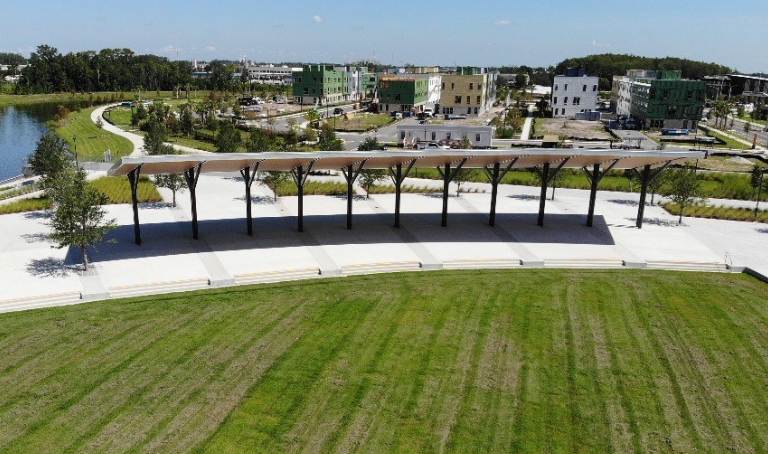 Grand Opening Celebration Weekend for Della Phillips Pavillion
Dr. Phillips Charities will celebrate the grand opening of the Della Phillips Pavilion in the Packing District, the first outdoor family concert to be held in the space in memory of Della Phillips. This concert will be performed by the Orlando Philharmonic Orchestra at 5:00 p.m. on Saturday, December 2 at 2002 Packing District Way, Orlando, FL 32804. This program will be free and open to the general public.
The Orlando Philharmonic Orchestra, led by Assistant Conductor Mauricio Céspedes Rivero, will take the stage at 5:00 p.m. to perform seasonal holiday favorites perfect for an afternoon in the park with family and friends. The program will include favorites from A Christmas Festival, Music of Frozen, The Night Before Christmas, Chanukah Overture, a festival holiday singalong, and more! Brandon Martin will be the featured soloist on the program. Kelly's Homemade Ice Cream Truck will be onsite with a variety of flavors available for purchase.
"We are delighted to kick off the holiday season with this inaugural event at the Della Phillips Pavilion," said Dr. Phillips President/CEO, Ken Robinson. "Della was a patron and lover of the arts, known for hosting performances at her home for the community. In so many ways, Della herself would be overjoyed that we are carrying on her tradition and bringing families together to support our community's talented musicians."
This program is sponsored by Dr. Phillips Charities honoring the legacy of Della Phillips. She was an accomplished musician with a deep passion for sharing the arts with the Central Florida community. Concert Information can be found at: https://orlandophil.org/event/della-phillips-pavilion-celebration-concert/

***
About Della Phillips
Della Phillips was married to Dr. P. Phillips for 58 years. Together they raised two sons, built a successful citrus and commercial real estate business, and contributed significant time, talent, and resources to the Orlando community. Mrs. Phillips was an accomplished musician, classically trained in piano and music theory. She shared her love for the arts with family and friends, believing classical music and performance provided not only entertainment, but also intellectual stimulation. Dr. and Mrs. Phillips regularly invited world-class artists to perform at their home on Lake Lucerne in downtown Orlando to which they added a carriage house with living quarters designed to accommodate musicians and a second-floor ballroom to entertain guests and host performances. Della Phillips was a co-Founder and supporter of the Mendelssohn Society, a precursor to today's Orlando Philharmonic Orchestra.
About Dr. Phillips Charities
The Dr. Phillips name has been a major economic and philanthropic presence in the Central Florida community since the turn of the 20th century. Dr. Phillips Charities (Dr. Phillips Inc. and The Dr. P. Phillips Foundation) uses the earnings from its investment and real estate income to give financial assistance to hundreds of charities serving primarily in Orange and Osceola counties.  Dr. Phillips has pledged more than $246 million in grants, pledges and program-related investments to Central Florida charities responding to the needs of the community and directly touching the lives of thousands of children and families. Learn more at www.DrPhillips.org.
About the Orlando Philharmonic Orchestra
Celebrating its 31th Season, the Orlando Philharmonic Orchestra is led by Music Director Eric Jacobsen and is comprised of creative musicians and artists from around the world. The Philharmonic annually presents the 10-concert Classics Series and Pops Series in Steinmetz Hall as well as its Focus Series and Symphony Storytime Series at The Plaza Live, a historic Central Florida venue. The Orlando Philharmonic Orchestra's vision is to enrich and inspire through the transformative power of live music as Central Florida's premiere professional orchestra and it presents more than 170 live concerts and impacts more than 70,000 children, youth, and families annually through its Young People's Concerts, Symphony Storytime Series, Notes in Your Neighborhood program, and free outdoor community concerts. A resident company of the Dr. Phillips Center for the Performing Arts, the Philharmonic is proud to perform in the new Steinmetz Hall, one of the finest venues for acoustic music in the country. The Orlando Philharmonic is a Partner Organization of the National Alliance for Audition Support, an initiative to increase diversity in American Orchestras.
***
About the Artists:
Mauricio Céspedes Rivero – https://orlandophil.org/people/mauricio-cespedes-rivero/
Brandon Martin – https://orlandophil.org/people/brandon-martin/
Orlando Philharmonic Orchestra – https://orlandophil.org/