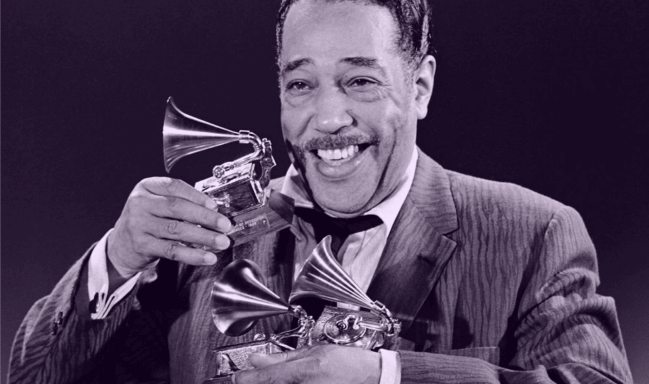 Celebrating the 120th Anniversary of Duke Ellington
The Orlando Philharmonic Orchestra closes out its Focus Series with Duke Ellington, American Icon on Monday, April 20 at 7 p.m. at The Plaza Live. The concert will feature The Jazz Professors- Jeff Rupert, Marty Morell, and Richard Drexler- alongside bassist J Brandon Robertson, trumpeter Eric Keslo, and vocalist Carla Cook.
The program will feature tunes like "Black and Tan Fantasy," "Prelude to a Kiss," "Take the A Train," "In a Sentimental Mood," and more.
Jeff Rupert's (alto & tenor sax) performing and recording credits include associations with Diane Schuur, Mel Tormé, Kevin Mahogany, Ernestine Anderson, and Benny Carter's Grammy winning Harlem Renaissance. Jeff Rupert's nine recordings as a leader all charted on Jazz Week. En Plein Air: The Jazz Professors play Monet charted on Jazz Week to #29.  Rupert's latest release Let's Sail Away with Veronica Swift, Richard Drexler and Marty Morell was #1 on the jazz charts. As a composer and arranger, Rupert has written for Bob Berg, James Moody, Maynard Ferguson, Kenny Drew Jr, Kevin Mahogany and Judy Carmichael. Jeff Rupert is Pegasus Distinguished Professor, Trustee Endowed Chair, and Director of Jazz Studies at the University of Central Florida (UCF), and founder of Flying Horse Records.
Marty Morell (drums) was a member of the Bill Evans Trio for seven years. A highly inventive player, capable of both great subtlety and fiery dynamics. Morell attended the Manhattan School of Music and studied mallets with Morris Goldberg, and tympani with Saul Goodman at the Juilliard School of Music.
Richard Drexler (piano) is a pianist, bassist, vocalist and composer/arranger from Bloomington-Normal Illinois, and has resided in Central Florida since 1985.  He has performed on 200 recordings; piano in the Woody Herman Orchestra for over 20 years, bass in trios of Kenny Drew Jr., Dick Hyman and others.  Richard has toured for 16 years as pianist with electric bassist Jeff Berlin, and regularly performs in eleven orchestras on seven instruments, and in diverse settings as a featured soloist with Cheap Trick, and Saigon Kick. His playing has been favorably reviewed in Down Beat, Jazz Improv, Jazziz, Jazz Times, and in dozens of online publications. Richard is a faculty member at the University of Central Florida's acclaimed jazz studies program, along with Marty Morell and Jeff Rupert. Richard holds a MM degree from UCF in composition.
Carla Cook (vocals) has been influenced by the jazz vocal masters, but equally influenced by phenomenal instrumentalists. The Detroit native also finds inspiration in R&B, Motown, pop, gospel and country. Her remarkable voice has earned Cook a Grammy nomination for her debut album, It's All About Love, and widespread critical acclaim for her two subsequent recordings, Dem Bones, and Simply Natural, which solidified her reputation as a songwriter as well as a singer. Cook has performed or recorded as a guest artist with such luminaries as the Count Basie Orchestra and Lionel Hampton's Big Band. She originated the lead vocal role for Wynton Marsalis' Jazz at Lincoln Center Orchestra's The Cotton Club Parade at City Center. In 2011, she was the featured vocalist with the world –renowned Jazz Sinfonica, an 82-piece orchestra performing in Sao Paulo, Brazil.
In addition to her performing career, Cook is proud of her work as an educator. She has taught master classes at numerous universities and jazz camps in Australia and the U.S. for teens and adults. And since 2007, she has taught jazz voice and ensemble at Temple University in Philadelphia. For several years, the Carla Cook Quintet has offered master classes through The Rhythm Exchange, an interactive Jazz Education Program she created for secondary students in schools throughout the U.S. In 2016, Cook was named Artist-In-Residence for the Robert S. Duncanson Society in Cincinnati, OH, where she provided educational programming and performances for students of all ages as well as the general public. In 2017 she joined the faculty of Pratt Institute in Brooklyn, NY for a special Residency teaching "Jazz: A Journey in Progress" to graduate students of Performance Studies. In 2018 she joined the faculty of The New School in New York City to teach Vocal Jazz Ensemble.
The Orlando Philharmonic Orchestra is supported by United Arts of Central Florida, host of OrlandoAtPlay.com and UAArtsEd.com. This project is funded in part by Orange County Government through the Arts & Cultural Affairs Program, and sponsored in part by the Department of State, Division of Cultural Affairs, the Florida Council on Arts and Culture, and the State of Florida.
Single tickets start at $18. Student tickets start at $14.60. Patrons may receive (2) free children's tickets (ages 17 and under) with the purchase of (1) full price Adult ticket. All tickets can be purchased online at orlandophil.org, by calling 407.770.0071, or in person at the Box Office, located at The Plaza Live (425 N. Bumby Avenue, Orlando). The Box Office is open Monday through Friday, 10 a.m. to 4 p.m. (Ticket prices subject to change.)
***
Celebrating its 27th Season, the Orlando Philharmonic Orchestra is led by Music Director Eric Jacobsen and is comprised of creative musicians and artists from around the world. The Philharmonic annually presents the FAIRWINDS Classics Series and Pops Series at Bob Carr Theater and its Focus Series at The Plaza Live, a historic Central Florida venue. The Orlando Philharmonic Orchestra's mission is to enrich and inspire the diverse communities of Central Florida through the transformative power of live music, and it presents more than 170 live concerts and impacts more than 70,000 children, youth and families annually through its Young People's Concerts, Symphony Storytime Series, Notes in Your Neighborhood program, and free outdoor community concerts. A resident company of the Dr. Phillips Center for the Performing Arts, the Philharmonic will perform in Steinmetz Hall when it opens in 2020. Learn more at orlandophil.org.
***
About the Artists:
Carla Cook – https://www.carlacook.com/
The Jazz Professors – https://www.facebook.com/TheJazzProfessors/
###