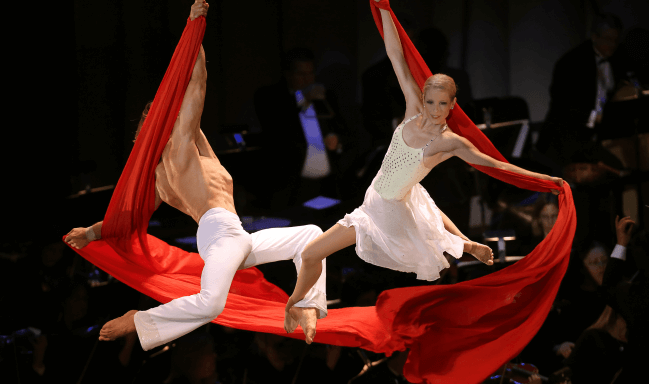 Cirque Goes Broadway
The Orlando Philharmonic Orchestra will close out the 2019-2020 Pops Series with two performances of 'Cirque de la Symphonie: Cirque Goes Broadway' on Saturday, April 4, 2020 at 2 & 8 p.m. at Bob Carr Theater.
The Philharmonic welcomes guest artists Natalie Cordone and Shawn Kilgore to the stage alongside numerous aerialists, contortionists, and acrobats. The performance will feature songs from popular Broadway musicals including Wicked, Chicago, Cats, West Side Story and more.
Natalie Cordone has played to packed houses around the world, from off-Broadway to first class Performing Arts Centers. Equally comfortable in front of a sweeping orchestra, a big band or in an intimate cabaret venue, she has had the pleasure of connecting with audiences in all kinds of settings. From opera to musical theatre, film to commercials, and concerts to corporate events, Natalie has traveled the globe entertaining and inspiring audiences.
In 2017, Natalie won Best Featured Actress in a Musical for her portrayal in Some Enchanted Evening. Also in the past year, she performed with The Greensboro Symphony & Orlando Philharmonic Orchestras; Rhapsody & Rhythm: The Gershwin Concert Experience, The Gershwin Big Band Experience (producer, Todd Gershwin); and Side by Side: A Steve & Eydie Tribute and Hooray For Love! (producer, Cordone and Kilgore). She also made her debut performance at the Orlando Shakespeare Theatre and premiered her seventh solo cabaret, Oh, The Places You'll Go!
Shawn Kilgore is currently based out of Orlando and is approaching his 20th year as a working professional in the entertainment business. Recently, Shawn was nominated for a BroadwayWorld.com Best Actor in a Musical Award for his work as Alvin in "I Love My Wife". He also received the Best Actor in a Musical title from the Miami Sun, who said of his performance as Edward Lyons in "Blood Brothers" : "…a finely-nuanced, subtly thought out and felt portrayal…an intelligent actor".
This past year included work on the world premiere of a new musical in Nashville, continued featured vocalist work with the Orlando Philharmonic Orchestra, live voice overs in the "Phantoms Unmasked" concert event, and completely sold out production of "Nunsense A-Men!" at the Winter Park Playhouse. He is also an original and long-time cast member of the South Florida comedy troupe Laffing Matterz, and makes appearances on stages across Universal Orlando Resort.
Shawn co-founded the production company Cordone & Kilgore, known for their Steve & Eydie Tribute, which has played from Las Vegas to Miami.
The Orlando Philharmonic Orchestra is supported by United Arts of Central Florida, host of OrlandoAtPlay.com and UAArtsEd.com. This project is funded in part by Orange County Government through the Arts & Cultural Affairs Program, and sponsored in part by the Department of State, Division of Cultural Affairs, the Florida Council on Arts and Culture and the State of Florida. The Accommodations Sponsor is Comfort Suites Downtown Orlando.
Tickets start at $27 and can be purchased online at orlandophil.org, by calling 407.770.0071, or in person at the Box Office, located at The Plaza Live (425 N. Bumby Avenue, Orlando). The Box Office is open Monday through Friday, 10 a.m. to 4 p.m. (Ticket prices subject to change.)
***
Celebrating its 27th Season, the Orlando Philharmonic Orchestra is led by Music Director Eric Jacobsen and is comprised of creative musicians and artists from around the world. The Philharmonic annually presents the FAIRWINDS Classics Series and Pops Series at Bob Carr Theater and its Focus Series at The Plaza Live, a historic Central Florida venue. The Orlando Philharmonic Orchestra's mission is to enrich and inspire the diverse communities of Central Florida through the transformative power of live music, and it presents more than 170 live concerts and impacts more than 70,000 children, youth and families annually through its Young People's Concerts, Symphony Storytime Series, Notes in Your Neighborhood program, and free outdoor community concerts. A resident company of the Dr. Phillips Center for the Performing Arts, the Philharmonic will perform in Steinmetz Hall when it opens in 2020. Learn more at orlandophil.org.
***
About the Artists:
Natalie Cordone: https://nataliecordone.com/
Shawn Kilgore: https://shawnkilgore.net/
Cordone & Kilgore: https://www.cordoneandkilgore.com/
# # #