FOR IMMEDIATE RELEASE
Media Contact:
Cristina Venturini
Office: 407.896.6700
cventurini@orlandophil.org
Click here for approved press photos.
(Scroll down for artist bios and social media links)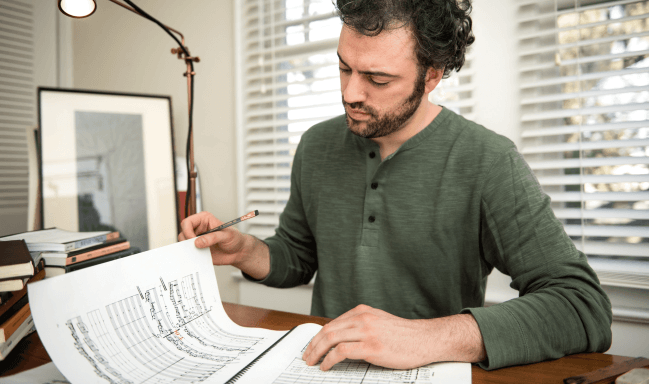 ORLANDO PHILHARMONIC ORCHESTRA GOES INSIDE THE SCORE WITH MUSIC DIRECTOR ERIC JACOBSEN
Orchestra to celebrate the 150th anniversary of the composer's life
with a new concert experience
(Tuesday, October 15, Orlando, FL) – The Orlando Philharmonic Orchestra brings a fresh and illuminating musical experience to Orlando with Inside the Score: Symphonie Fantastique on Sunday, November 17 at 3 p.m. at Bob Carr Theater.
In this new concert experience, Music Director Eric Jacobsen leads the audience through the wild stories behind Hector Berlioz's Symphonie Fantastique. Shockingly original, Symphonie Fantastique has captivated concertgoers for nearly two centuries. Complete with highlighted excerpts, and stunning live videography provided by Full Sail University, be closer to the musicians than ever before.
In this two-part concert event, Music Director Eric Jacobsen will spend the first half exploring the musical ideas and effects within the score, bringing to life the "March to the Scaffold" and the "Dream of a Witches Sabbath." The second half culminates in a full performance of Symphonie Fantastique by the Orlando Philharmonic Orchestra.
The concert will be preceded by a special brunch event at the Marriott Orlando Downtown with musical entertainment, live auction, special prizes, plated brunch, mimosa, and Bloody Mary bar. Join the Orlando Philharmonic Orchestra and Music Director Eric Jacobsen at Le Brunch Fantastique for a whimsical, elegant pre-concert brunch to celebrate a fresh musical experience featuring composer Hector Berlioz and his French heritage. All proceeds benefit the continued growth of the Orlando Philharmonic Orchestra.
Inside the Score is sponsored by Philip and Andrea Kobrin in memory of Sara and Jack Kobrin, Ruth and Kent Griffin. Full Sail University is the Video Production Sponsor. The Orlando Philharmonic Orchestra is funded in part by United Arts of Central Florida, home of OrlandoAtPlay.com and UAArtsEd.com and the State of Florida, Department of State, Division of Cultural Affairs, the Florida Council on Arts and Culture.
Single tickets are on sale starting at $27 (please note that tickets to Le Brunch Fantastique are sold separately) and can be purchased online at orlandophil.org, by calling 407.770.0071, or in person at the Box Office, located at The Plaza Live (425 N. Bumby Avenue, Orlando). The Box Office is open Monday through Friday, 10 a.m. to 4 p.m. (Ticket prices subject to change.)
***
Celebrating its 27th Season, the Orlando Philharmonic Orchestra is led by Music Director
Eric Jacobsen and is comprised of creative musicians and artists from around the world. The Philharmonic annually presents the FAIRWINDS Classics Series and Pops Series at Bob Carr Theater and its Focus Series at The Plaza Live, a historic Central Florida venue. The Orlando Philharmonic Orchestra's mission is to enrich and inspire the diverse communities of Central Florida through the transformative power of live music, and it presents more than 170 live concerts and impacts more than 70,000 children, youth and families annually through its Young People's Concerts, Symphony Storytime Series, Notes in Your Neighborhood program, and free outdoor community concerts. A resident company of the Dr. Phillips Center for the Performing Arts, the Philharmonic will perform in Steinmetz Hall when it opens in 2020. Learn more at orlandophil.org.
***
About the Artists:
Eric Jacobsen – https://orlandophil.org/people/eric-jacobsen/
***
SOCIAL MEDIA LINKS
Orlando Philharmonic (@OrlandoPhilOrch):  Website  |  Facebook  |  Twitter  |  Instagram
# # #