FOR IMMEDIATE RELEASE
Media Contact:
Cristina Venturini
Office: 407.896.6700
cventurini@orlandophil.org
Click here for approved press photos.
(Scroll down for artist bios and social media links)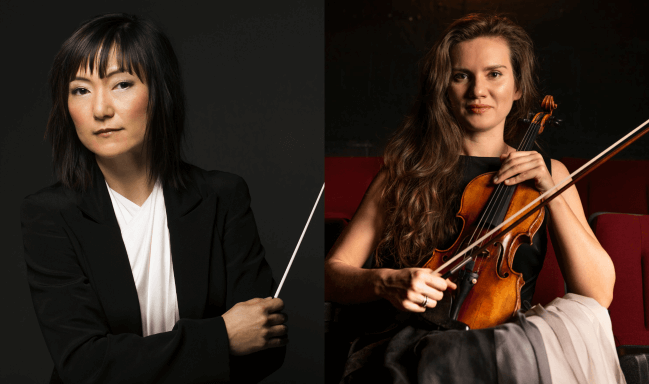 ORLANDO PHILHARMONIC ORCHESTRA TO PERFORM BEETHOVEN'S FIFTH SYMPHONY
The Orchestra celebrates the 250th anniversary of the composer's birth year
(Thursday, September 26, Orlando, FL) – The Orlando Philharmonic Orchestra continues its 2019-2020 Season with Beethoven's Fifth on Saturday, October 26 at 8 p.m. at Bob Carr Theater.
Guest Conductor Rei Hotoda takes the podium as she leads the Orchestra in this beautifully diverse program concluding with one of the most recognized and performed works in classical music repertoire, Ludwig van Beethoven's Symphony No. 5, which has appeared in everything from disco music to movies.
The concert, the second of five in the FAIRWINDS Classics Series, will also feature Orlando Philharmonic Concertmaster Rimma Bergeron-Langlois, as she performs Samuel Barber's fiery and colorful Violin Concerto. George Walker, renown as the first African-American composer to earn a Pulitzer Prize, is remembered by his lush and passionate Lyric for Strings.
The program will include:
WALKER – Lyric for Strings
BARBER – Violin Concerto 
BEETHOVEN – Symphony No. 5
Hailed by the Spokesman-Review as being an "inexhaustible dynamo," Rei Hotoda, now in her third season as Music Director of the Fresno Philharmonic, has appeared as a guest conductor with many of today's leading ensembles, including the Symphony Orchestras of Baltimore, Chicago, St. Louis, Dallas, Detroit, Toronto, Utah, Hawaii, Winnipeg, and Spokane as well as the Civic Orchestra of Chicago, among others. Highlights of her 2019-2020 year include conducting several symphonies by Beethoven (Nos. 2, 5 and 8)—part of the global celebrations of the composer's 250th anniversary year—as well George Walker's Lyric for Strings.
Rimma Bergeron-Langlois (Yermosh) began playing the violin when she was five years old, and her first public appearance was on Ukrainian National television when she was six. She studied at the specialized music school in Kharkov, Ukraine and was a prize winner at the Adolescent's Assemblies of Arts International competition in Moscow, Russia. Rimma went on to pursue her Bachelor's and Master's degrees at the New England Conservatory in Boston with Masuko Ushioda and Donald Weilerstein. During her studies, she won multiple New England Conservatory Concerto Competitions. Rimma has performed extensively in concerts and recitals throughout the Europe, Russia, USA, South America, Asia and Australia.
FAIRWINDS Credit Union is the Classics Series Sponsor. The Orlando Philharmonic Orchestra is funded in part by United Arts of Central Florida, home of OrlandoAtPlay.com and UAArtsEd.com and the State of Florida, Department of State, Division of Cultural Affairs, the Florida Council on Arts and Culture.
Single tickets are on sale starting at $27 and can be purchased online at orlandophil.org, by calling 407.770.0071, or in person at the Box Office, located at The Plaza Live (425 N. Bumby Avenue, Orlando). The Box Office is open Monday through Friday, 10 a.m. to 4 p.m. (Ticket prices subject to change.)
***
Celebrating its 27th Season, the Orlando Philharmonic Orchestra is led by Music Director
Eric Jacobsen and is comprised of creative musicians and artists from around the world. The Philharmonic annually presents the FAIRWINDS Classics Series and Pops Series at Bob Carr Theater and its Focus Series at The Plaza Live, a historic Central Florida venue. The Orlando Philharmonic Orchestra's mission is to enrich and inspire the diverse communities of Central Florida through the transformative power of live music, and it presents more than 170 live concerts and impacts more than 70,000 children, youth and families annually through its Young People's Concerts, Symphony Storytime Series, Notes in Your Neighborhood program, and free outdoor community concerts. A resident company of the Dr. Phillips Center for the Performing Arts, the Philharmonic will perform in Steinmetz Hall when it opens in 2020. Learn more at orlandophil.org.
***
About the Artists:
Rei Hotoda – https://www.reihotoda.com/
Rimma Bergeron-Langlois – https://orlandophil.org/people/rimma-bergeron-langlois/
***
SOCIAL MEDIA LINKS
Orlando Philharmonic (@OrlandoPhilOrch):  Website  |  Facebook  |  Twitter  |  Instagram
# # #