On Friday June 9th, 2023, another incredible session of our OPO Summer Camp came to a close. Our amazing campers dedicated two weeks of their precious summer to immerse themselves in education, musicality, and friendship. Take a look!
"I'm looking forward to all this new repertoire with the really amazing mentors" – Isabelle, Violin
With 38 campers, attendance doubled compared to last year, which means more guests, more, performances, and more tie-dye. On Tuesday, May 30th, we welcomed students from all over central Florida, including:
20 musicians from Orange county
Four from Seminole county
Two students each from Osceola and Brevard counties
One student each from Polk and Alachua counties
We even had five campers from the Home School system with us!
This year, our goal for the OPO Summer Camp could be summed up in one phrase: more performances, more ensembles, and more student engagement.
"Without the scholarship, I most likely would not have been able to make it here. So I'm extremely grateful for the opportunity and I know I'll definitely get some great experiences and great knowledge out of this camp" – Joseilys, Viola
With construction at The Plaza Live taking place, our Directors looked to the beautiful venue of First United Methodist Church of Orlando. A beloved performance space in the community, they were gracious, generous, and excited to partner with us.
"Just getting here and seeing how amazing musicians everyone is… these people are insanely good!" Janna, Bass
Our campers were coached in both large ensembles and chamber ensembles by Artistic Director Mauricio Céspedes,  Rimma Bergeron-Langlois, Alex Stevens, Grace Gavin, and Suzanne Vascik. All instructors challenged the students with a rehearsal schedule of almost sixty hours!
We also had the pleasure of welcoming several guest speakers during our session. Dan Flick gave a two-part presentation on songwriting, Keith Lay provided a crash-course in composition and notation software, Daniel Muni showed the intricacies of instrument making and maintenance, and Sarah Purser from Opera Orlando exhibited the wonders of the human voice. OPO's very own Principal Harp Haley Rhodeside even performed for the campers!
"Summer camp has given me a reality check – It's given me a new perspective on playing violin" Jorge, Violin
The OPO Summer Camp ensemble included twenty-five Violinists, five Violists, five Cellists, and three Bassists. With a group of this size, we were able to put on some thrilling performances throughout the community. 187 guests watched our musicians perform at the Orlando Lutheran Towers and Winter Park Library on Monday June 5th, 2023. Both the Towers and the Library have been long-standing partners of OPO Summer Camp performances.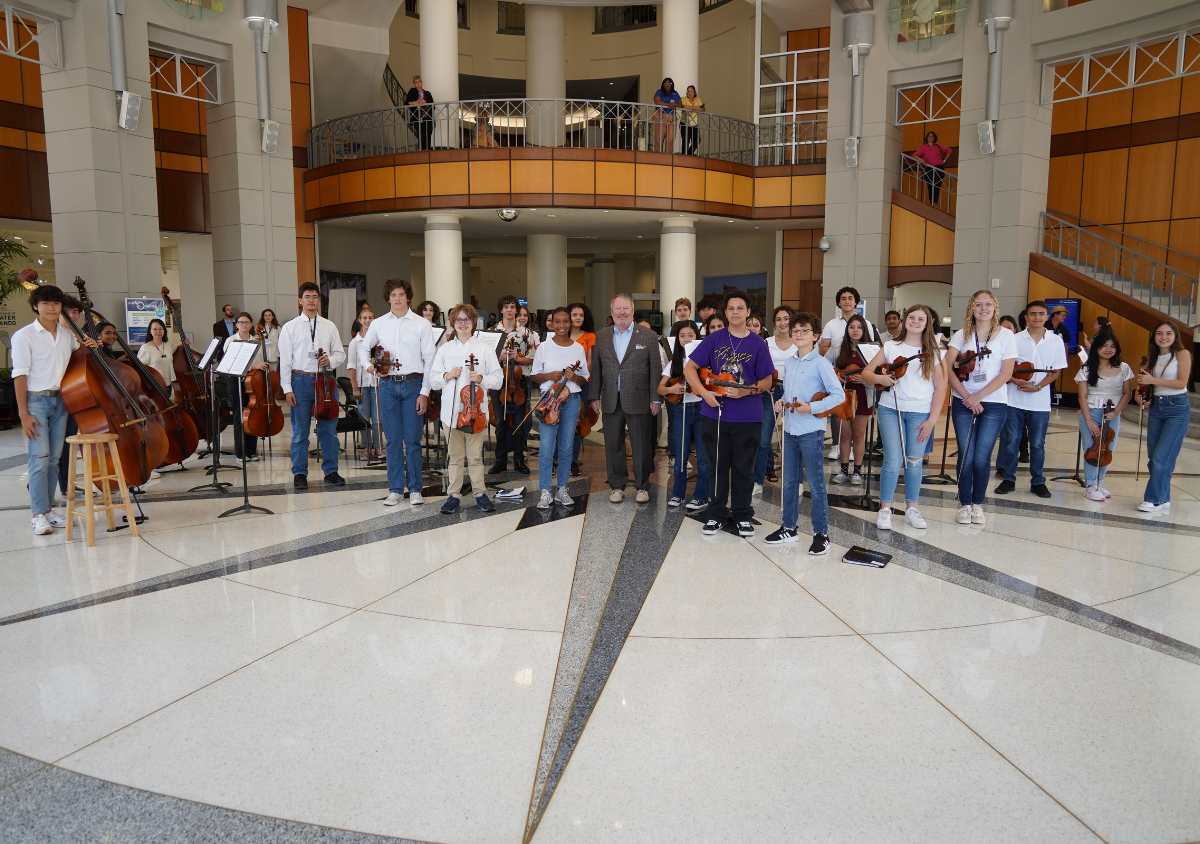 On our lunchtime excursion to Orlando City Hall on Wednesday, June 7th, we were joined by 91 city employees enjoying their meal. Mayor Dyer shared a few words and took photos with the students. During the Friday, June 9th final concert at First United Methodist Church of Orlando, we had the support of 168 family and friends.
Our campers left our care smiling and teary-eyed, looking forward to next year's OPO Summer Camp. We hope you'll join us again!
OPO Summer Camp was sponsored by Muni Strings, The Kay Hardesty Logan Foundation, and the City of Orlando. Thanks to our incredible donors, eighteen students were awarded a scholarship for OPO Summer Camp tuition, providing invaluable education and opportunities.
We would love to recognize the following for their contribution to the program:
Carolyn Bourne
Edward and Marian Bromberg
Colleen Cleary
John Klumph
Craig and Mickey Luongo
Sandi McCourt and Paul Leake
Dr. Mary Palmer
Ronald and Carrie Patterson
Gloria Pickar
Lou Supowitz
Kristy Doyle and Bob Turner
Suree & Zaby Vyas Foundation
We could not do it without your support!